At BrandLoom Consulting we believe in the power of Agile & connected – AnyWhere Brands. AnyWhere Brands connects with its stakeholder (consumers, channel partners, society, shareholders and Government) when they want and where they want.
What is an AnyWhere Brand
AnyWhere Brands ensure consistent, high quality and unique customer experience regardless of how and where a customer chooses to interact with the brand or organisation, and no matter the purpose. Such brands consider consumer interaction to be continuous and focuses on customer experience.
AnyWhere Brand does the following things flawlessly, and this is what differentiates them from their competitors:
Delivers a truly positive and consistent customer experience.
Provide JIT Information to your Consumer, channel partner and other stakeholders.
Enable Channel partners to provide a complete package of pricing and product information on real-time basis
Launch New Products the moment it is ready and increase your "Speed to Market."
Create Excitement among Channel Partners and be seen as a Brand for Tomorrow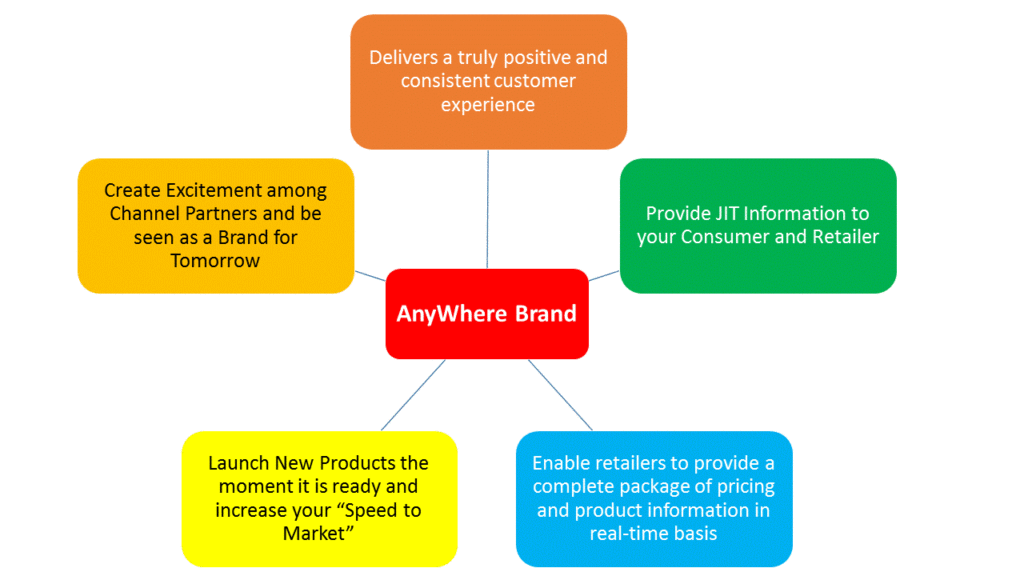 Our services will enable you to become an AnyWhere Brand and provide Delightful Customer Experience by creating synergy across multiple channels or touchpoints.
Save