Fully Mana

ged End to End 

eComme

rce Solutions
eCommerce Website Development
eCommerce Mobile App Development
Warehousing & Order Processing
Product Packaging & Shipment
Customer Relationship Management
Customer Service & Grievance Handling
eCommerce Listening & Sentiment Analysis
% Global Internet Penetration
% Global Social Media Penetration
% Internet Users through Mobile
% Smartphone Penetration in Mobile
% Global Population Buying Online
$ Online Purchase per Person
Internet is Driving Consumer Evolution!!
"Not too long ago Indian consumers were simple and unexposed
They were contented with what they had in life without a fuss.
The neighbouring Chachajis shop was the end of the world for the best products.
And then, foreign brands started to appear in the neighbourhood and malls
Promising International designs and quality with a foreign appeal.
They started to appear in Malls and started making investments in brand stores.
But Chachajis shop continue to sell, what they were earlier leaving consumers high and dry
Chachaji continues to claim that he knows what is right for customers.
Then came Internet shopping with Flipkarts, Amazons and Snapdeals of the world
Making consumers exposed to thousands of patterns, designs, colours and brands.
It is no longer just about making quality product.
but also about being visible/available to consumer 24X7.
For young consumers visibility on Internet is a seal of quality and good products.
& Business Transformation!!
Now is the Time. Else it will be too LATE!
It is no longer about choice to be on Internet. It is about how soon you can Transform your Business Digitally.
Being on Internet is no longer a luxury, but it is a necessity to stay relevant with today's consumer.
Like it or not, you need to radically revolutionize your business just to stay relevant today. Technology & Internet have transformed business landscape forever. The fast-paced digital age has accelerated the need for companies to become agile.
Are you ready to Leverage the Opportunity
What is Stopping you from Digital Transformation?

What is stopping you from Delighting your Consumers?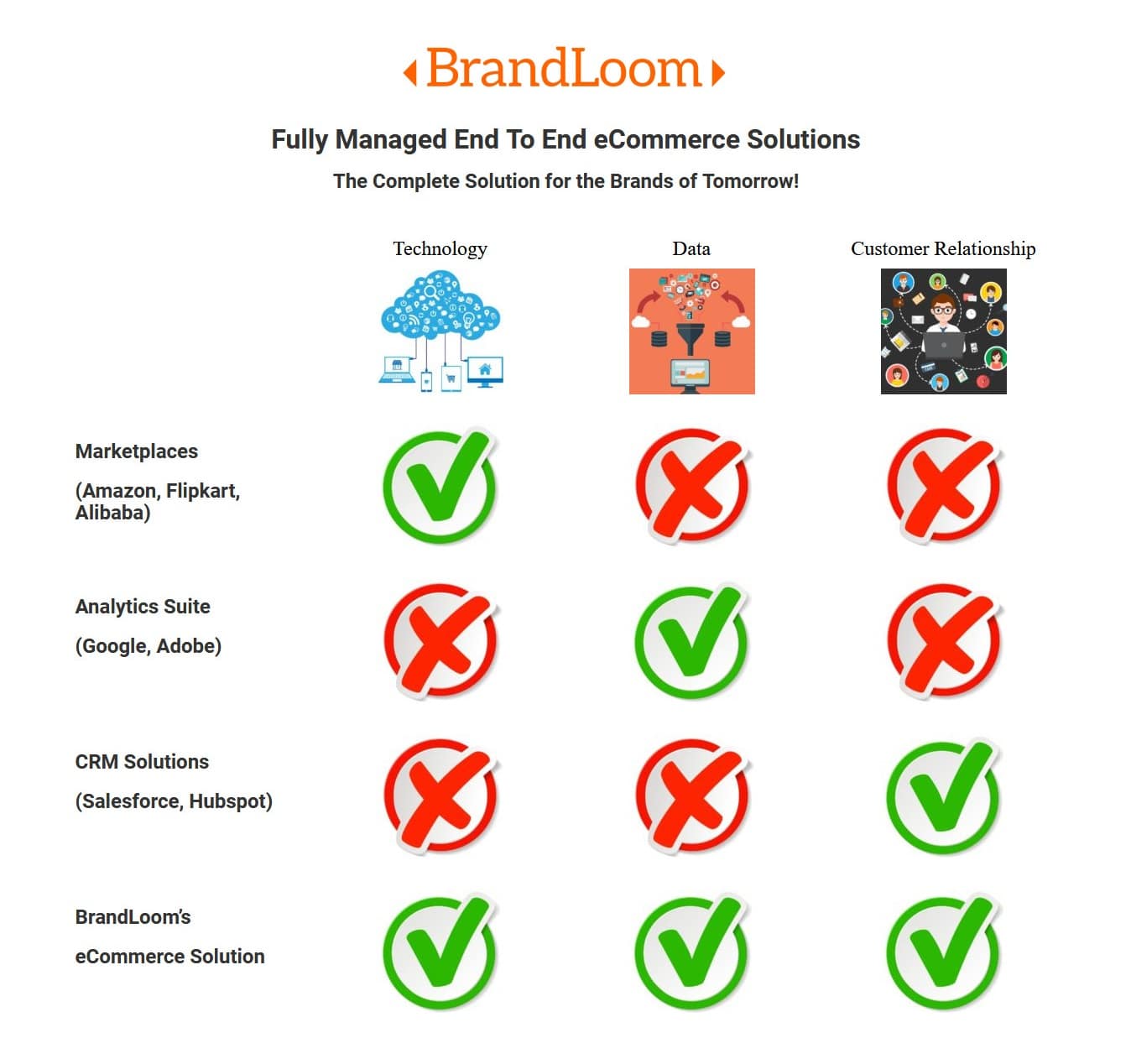 BrandLoom's AnyWhere Brand Commerce
The winning strategy for Brands of Tomorrow
Internet & digital technologies are leading to consumer evolution and business transformation. Consumer expectations are very different today. The competition is emerging from unexpected players. Several product categories are no longer relevant today.
In this ever connected world consumer is not satisfied just with good quality products. Their demands are very different now. To be successful brands need to provide consistent, unique, fulfilling and personalised experience to its customer. Brands needs to be aware of the three key trends that emerges from today's consumer:
Desire to Self-service: This is leading to continuous growth of online marketplaces such as Amazon and Flipkart. Consumer is not restricted today by the boundaries of retail. They connect with businesses from wherever they want and whenever they want.
Desire to fulfill their Individualized needs: Consumer today is not willing to compromise with what is available. They are very clear about what they need and rewards brands that understand them.
Desire to belong & make a difference to the world: Consumer today wants to connect with brands at an emotional level. They connect with brands with a higher purpose. Brands that wants to make a difference in the real world have a higher chance to succeed.
At BrandLoom we believe that to stay relevant and be successful in future it is no longer enough to have an eCommerce play on marketplaces.
Businesses needs to go beyond and build a BRAND – COMMERCE play that can take place anywhere the customer wants.
At BrandLoom we define this as "AnyWhere Brand Commerce".
How our eCommerce Solutions help you
ABC Businesses (AnyWhere Brand Commerce Businesses) go an extra length to fulfill their consumers desire and have a purpose they truly believe in.
Our fully managed end to end eCommerce Solutions (AnyWhere Brand Commerce) embed these trends and helps you:
Seamlessly create infrastructure and capabilities that dis-intermediate channels, inventory, warehousing, transaction processing, and merchandising.
Build optimized web & mobile technology processes and infrastructure for eCommerce innovations.
Provide your consumers an seamless 'any-device, anytime, anywhere' retail experience online.
Ensure superior customer experience and engagement.
Identify newer business opportunity with data analytics and consumer insights.
Evaluate measurable return on investment (ROI) from investments in digital initiatives.
Build AnyWhere engagement strategy that helps you build your Brand Equity and business.
With our end to end eCommerce solutions retail and consumer packaged goods (CPG) companies can significantly improve their time to market, while lowering the costs and risks.
At the same time, our multi industry – multi player platform allow us to learn from other businesses that can significantly improve your innovations pipeline leading to sustainable advantage over your competitors.