You must have heard the adage that content is king. However, but have you heard that customer intent is kingdom. When you can consistently generate consumer-centric content, you can resonate with your audience and take your brand to new heights. And the key to achieving that is a good content strategy. Content strategy helps you become Kind of this customer intent kingdom.
In this blog, we will look at what is content strategy, how to create one, and how to make it work for you.
Remember- brands are built on quality communication. To keep your audience engaged, you must produce good content regularly. BrandLoom can help shoulder your content creating responsibilities- so that you can concentrate on growing your business. Interested, Talk to us.
What is Content Strategy?
Content strategy is how you plan to use content to engage your customers and achieve your business objectives. By content, we mean all forms- written, images, infographics, audio and video format. A good content strategy effectively uses content that helps you effectively engage your viewers and customers at all stages of the marketing funnel and improves your conversions.
Marketing managers use content to :
Increase brand awareness
Generate leads
Get subscribers & conversions
Create opportunities.
Remember- creating content at random and posting it cannot be termed "content strategy". Content strategy is a planned endeavour.
Creating a good content strategy can lead to an increase in sales and leads. While SEO helps you rank higher in search engine rankings, the content strategy enables you to achieve the above objectives.
In this blog, we will brainstorm over how to create a good content strategy and why it is crucial for businesses.
But first, let's try to understand the relationship between content strategy and content marketing.
Difference between content strategy and content marketing
Content marketing refers to the generation and distribution of content. So, it is about creating and posting content on your website or social media channels. The aim here is to bring traffic to your website or social handles.
Your content strategy is all about achieving your business objectives. So, you create strategic content and deploy it in a way that optimizes conversions. So, it is about creating content that meets your target audience's needs and helps you convert them into a customer.
It goes without saying that the two are tied closely together- and content marketing is, in a way, a part of your overall content strategy.
Importance of a (good) content strategy
1 AIDA
As per the AIDA model- awareness leads to interest, which leads to desire which leads to action. Content strategy must make sure you use content such as infographics, ebooks, videos, articles and other forms of content at each step to ensure the conversion rate is high. The content strategy must map out each step and use content at every stage to achieve a higher conversion rate.
2 Lead Generation
A good content strategy is essential for businesses because it helps them generate leads efficiently. Content marketing combined with inbound methodologies helps create more opportunities.
3 Sales
Content helps businesses improve their sales.
To achieve your business goals, you have to go beyond simply posting content on your website or social pages. You have to generate content that resonates with your audiences, puts them in a state of mind that you want, and prompts them to take the desired action.
To understand exactly what action you want them to take or the emotions you want to invoke in them- you have to first understand what stage of the marketing funnel your audience is currently at.
Content strategy and the marketing funnel- AIDA
Good content can be used to build trust with your audience, help generate leads, increase subscribers and more. A good content strategy must ensure that you are using the right content at each stage of the marketing funnel to achieve success.
The marketing funnel is simply the mechanism by which you guide users who may not be familiar with your brand toward becoming leads, and ultimately customers.
This process begins with awareness (becoming familiar with your product or service). It moves on to user education (becoming familiar with how your product or service works), conversion (communicating the value of your offerings over competing solutions), and retention/advocacy (turning customers into brand evangelists).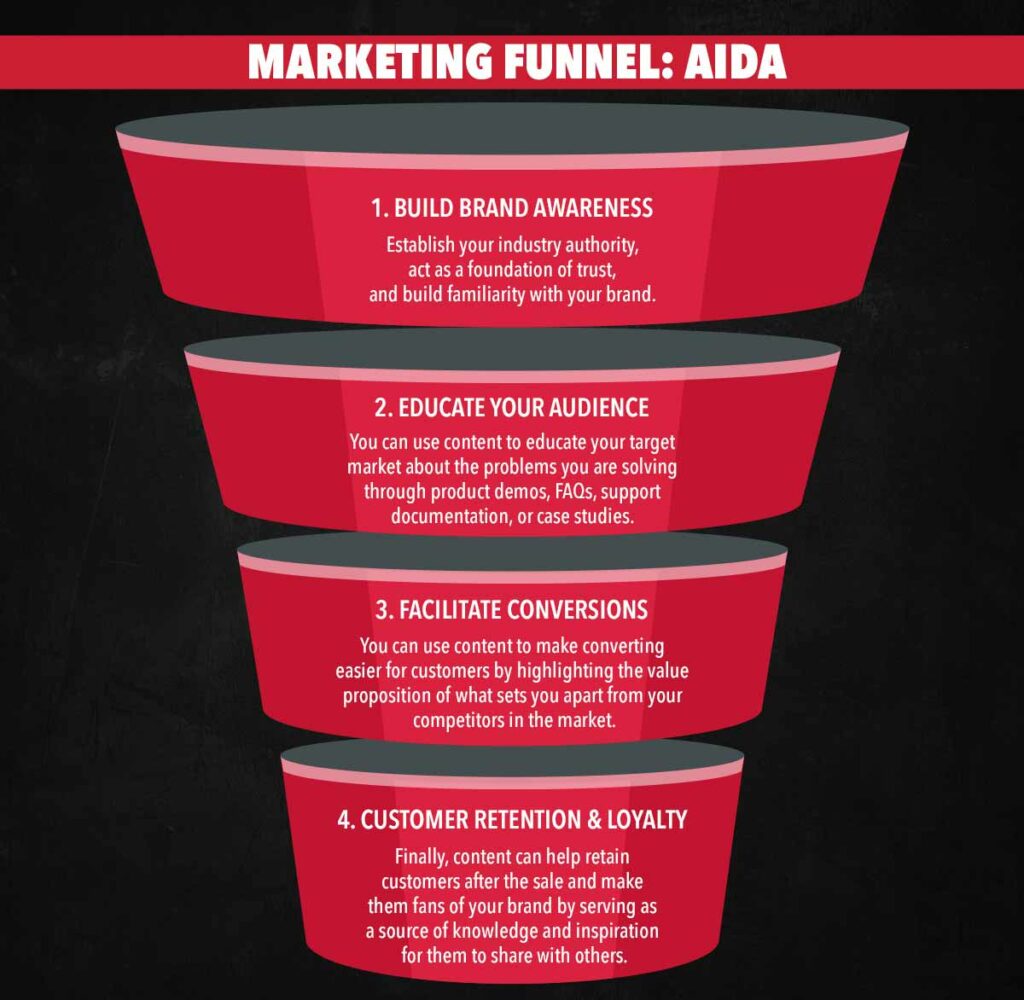 Role of content in optimizing the marketing funnel
Content plays a crucial role in each stage of this process. Content can help you:
Build brand awareness: Establish your industry authority, act as a foundation of trust, and build familiarity with your brand.
Educate your audience: You can use content to educate your target market about the problems you are solving through product demos, FAQs, support documentation, or case studies.
Facilitate conversions: You can use content to make converting easier for customers by highlighting the value proposition of what sets you apart from your competitors in the market.
Customer retention and loyalty: Finally, content can help retain customers after the sale and make them fans of your brand by serving as a source of knowledge and inspiration for them to share with others.
If you want to create the right content for all stages of this funnel, you must know who your content is meant for and why. Here are some critical questions you should ask yourself to create a good content strategy.
How to create a content strategy: The crucial questions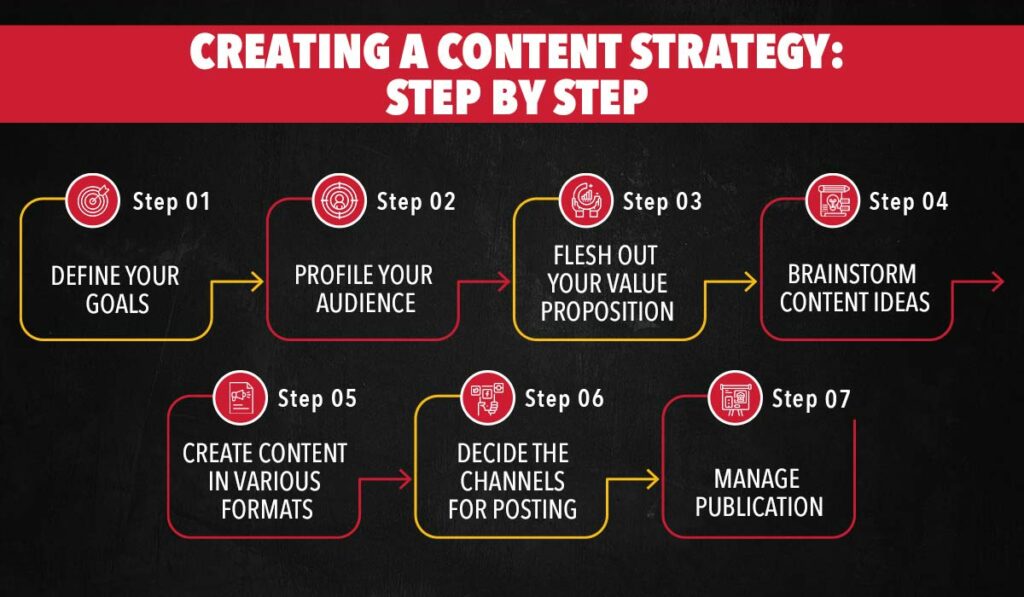 1 What do you want your audience to do, or why are you creating your content?
This is an important question because the action you want your audience to take determines the type of content you create and how you market it.
Do you want to increase brand awareness?
Do you want to sell something?
Are you looking to inspire loyalty in your customers?
Are you looking for leads?
Is it some PR damage control that you have in mind?
When you have the objective of the content clear- you can create the right kind of content that elicitates the desired reaction from your customers.
This takes us to the next logical question.
2 Who are you creating your content for?
This is the most critical question in any marketing exercise. Your target audience– their expectations and behaviours will shape the rest of the strategy. Before you start creating a content strategy, you should have a clear idea about who will be reading your content.
What many marketers forget is that a brand can have multiple target audiences. Create 3-4 different types of broad consumer personas, and craft (and market) your content accordingly.
3 What problems is your product solving for your audiences?
Why would someone buy your product? The answer may be more complex than you think.
Let's say your product is a pain relief spray. The reason your customer should buy it is that it provides pain relief. But- the benefit that your product gives her is beyond that.
She can move about more freely.
Without slowing down, she can progress in her career.
She can take care of her kids without being hobbled by pain.
Her quality of life improves, so she can enjoy doing things she wants- like going out dancing with friends, hiking or playing with her pets.
And she doesn't need to depend on anyone else to get her tasks done.
The points mentioned above are intangible benefits – and these play a vital part in convincing your audiences to take the desired action, which brings us to the next point.
4 What makes your product unique?
Since there are ten different pain relief sprays available in the market- why should your customer buy from YOU and not your competitor?
This is the vital question that defines your niche. Though every person will need a pain relief solution, not everyone will need the SAME TYPE. You have to impress your brand's uniqueness on your target audience so that they buy your brand specifically.
Is your pain relief spray the most affordable option?
Is it the fastest acting?
Do its effects last longer than other products?
Will it be adequate for ordinary people, or can it sustain you through sports injuries?
Is it 100% natural and free of side effects?
Do doctors recommend it?
If you can convey what is unique about your brand and why it is a cut above the rest, you can successfully appeal to your target audience.
Then comes the next step.
5 What type of content should you create?
Content comes in various formats- videos, blogs, ads, social media posts, infographics, images, ebooks, whitepapers, etc. When you know who you are writing for and why you should choose the suitable format for your content.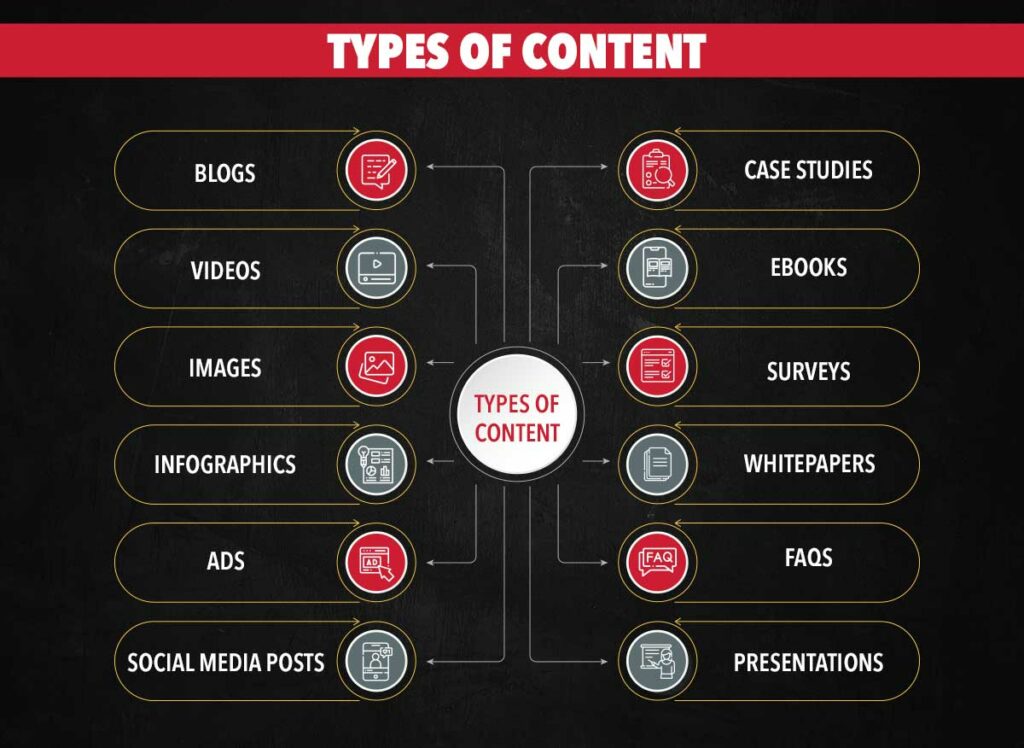 E.g., if you want to promote a line of lipsticks- videos or images should be the way to go because they can show precisely what colours your lipsticks are.
But if you want to argue why it is better to go for organic vegetables instead of regular produce- an infographic or a blog will serve you better.
If you want to convince investors why putting their money into bitcoin is a bad idea- a whitepaper is a correct format.
6 Where can you publish your content?
The most common answer is to post your content on the channels where your audience is.
If you are running a recruitment campaign, posting your content on LinkedIn makes sense.
But if you want to promote your new line of coats- you are better off on Instagram, where you can team up with an influencer for an attractive photoshoot.
7 How will you manage producing and publishing your content?
This is probably the most intimidating part of the job- as it includes managing your resources efficiently.
There are five essential questions you need to consider here:
What is your workforce capacity?
What tools do you have that help you create content?
Who will write what?
Where will something be published?
When will it go live?
This is where most companies stumble because managing a complex content strategy is not an easy task. The best solution to this problem is to talk to content experts like BrandLoom– who can produce good content regularly and market it efficiently.
Content marketing strategy: A sample template
Here is a content strategy template to promote a digital marketing agency like BrandLoom: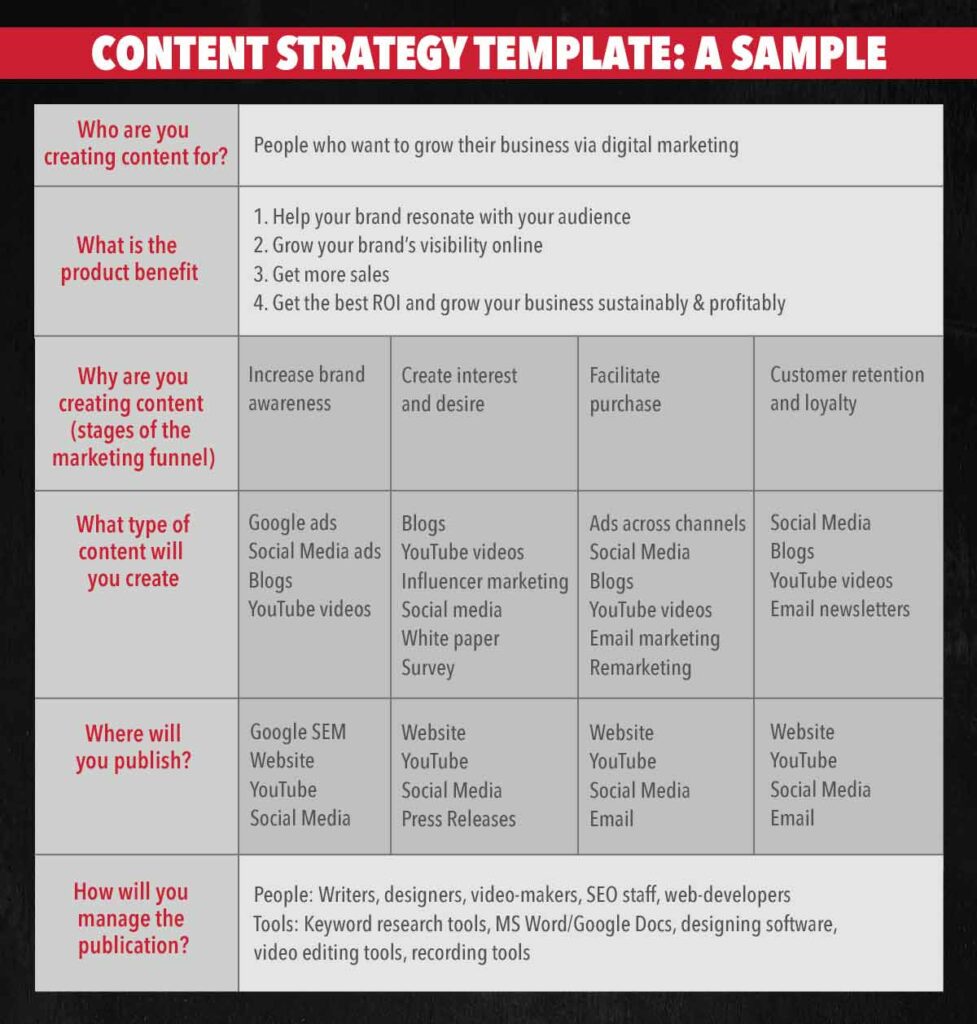 Conclusion
A good content strategy will help you produce content regularly and take a systematic approach toward connecting with your target audiences. You need to have a clear idea of the goals you want to accomplish and the people you want your brand to resonate with.
Creating a good content strategy and implementing it requires expertise. Many businesses find it a daunting task, forsake it, and concentrate on selling their wares. Unfortunately, if you cannot engage your target audience, your selling efforts will fail.
A good content strategy can help you build a brand for the long term. If you can, team up with good content marketing services agencies like BrandLoom. We can take care of this crucial part of your business while you can concentrate on innovating your product and serving your customers better.