Writing SEO-friendly content is a sure way to rank your article and get a lot of traffic.
When your website starts ranking- your brand's visibility also improves.
Of course- an article without SEO can also rank.
But to make the most of your content, rank systematically, and retain your website's position at top of SERPs- you need to know about SEO content writing and SEO content writing tips.
To grow your business, beating your competition in search rankings is the first step.
You will increase your digital footprint if you keep ranking for relevant keywords.
Need help creating good-quality SEO-friendly content on a regular? Trust BrandLoom.
Let us do a deep dive into SEO content writing. We have some handy SEO content writing tips for you that you can use to improve your search rankings.
What is SEO Content Writing
SEO-optimized writing is targeted at search engines like Google, Yahoo, or Bing for specific search queries.
SEO is a way of optimizing the influence of your content on the search engines to rank it above the existing or upcoming competition content from other sites.
All those competition sites target the same search terms as you.
The objective of any blog is to answer the questions people are looking for. And the only way people will FIND your answers is when your content contains the keywords they are using to look up relevant information.
So, before you start writing- start by doing your keyword research. While we need to write good content pieces- adding keywords to them is the way to satisfy both Google and the readers. 
Other than learning to use targeting keywords, there are many concepts important to SEO. In this post, you will learn tips for SEO copywriting.
There is no "secret recipe" for writing SEO-friendly content. SEO content writers and copywriters can often over-complicate the whole concept and drift away from the key goal of the content.; it is to help readers with their queries and rank the blog simultaneously.
Another goal can be to provide people with information about something! Despite the lack of a secret recipe, you can follow these four steps to satisfy search engines to some extent.
In a nutshell- a piece of content is SEO optimized when?
1. You research keywords and make a list of the ones to include in your content.
2. Then pick a focus keyword and
3. Frame the content around that keyword
4. Interlink the content within the existing content of your website and share on Twitter, Facebook, or other social media platforms.
Google arranges the web pages in the search results based on the relevance and authority of the page to enhance the user experience.
How does google measure authority and relevance?
Google analyses the content based on several factors, including how and where you use a specific series of words in that piece of content.
Google measures the website's authority by the number of high-quality links pointing to that page. Also, the credibility of those links matters.
Tips on How to make SEO-friendly content?
1. Use the primary keyword in the title: This should be simple. It would be best if you kept the focus keyword as the page's title to indicate what the page is about. It creates the theme of the page and gives out the main motive of the content.
2. Use the most important keywords in the beginning: SEO experiments show that the placement of keywords in the body strongly correlates with rank and the blog article.
3. Use keyword variations in your article: You can't put just one keyword in the article and expect it to rank. Google wants many signals to set up content relevancy. So using keyword variations is a way to show Google that your article is useful for the users.
4. Study competitors with good on-page SEO content: The best way to learn the priorities of Google is to study the competitors. Look for the headers, word count, the usage of italics and bold and italics, images, alt text, video, the number of headers, etc.
So, in the end, what is the key to excellent SEO content? You must understand that you are writing for search engines and users. Doing so is more difficult than you may think. Here are some rules you must understand as core principles.
9 SEO Content Writing Tips to follow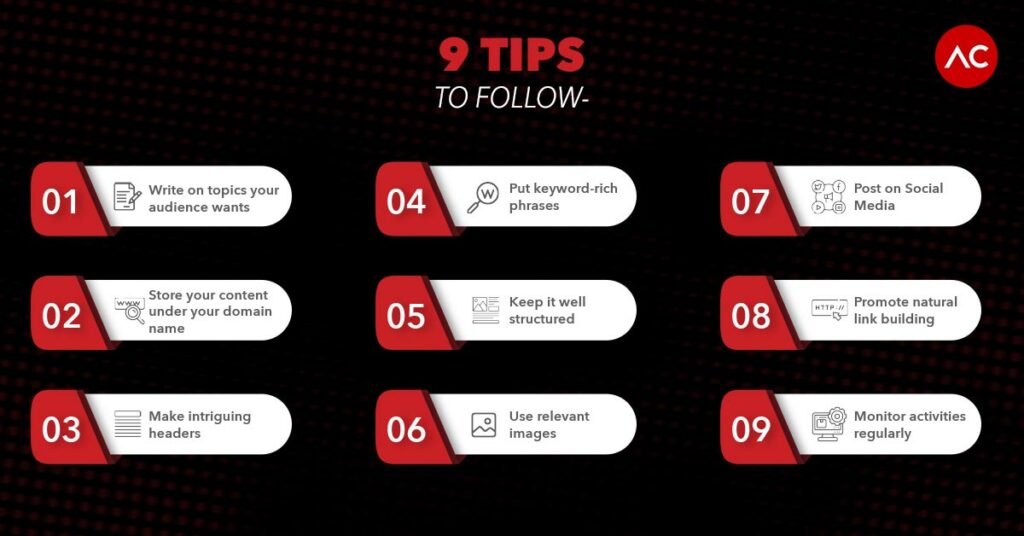 1. Write SEO-friendly content for your audience on topics they want to know about
This SEO writing tip is on the top. It seems easy, yet so many people make content for the wrong reasons. Write content that connects to the interests of your target market. It should answer their questions.
Not all posts should talk about your product, but they can be informative too. Assert yourself as an expert in your industry by writing SEO-friendly content that is informative and engaging enough to pose your competition better.
2. Keep it under the same roof
Always get traffic and credit for your website by storing your original content under your domain name. Try hosting with Blogger or WordPress and store it in a subfolder of your domain if you have a blog.
Any time you get a chance to show other forms of original content like a whitepaper, videos, or infographics, make sure to add them to your website.
3. Make intriguing headlines for SEO content
Headlines are a concise amount of text that should make a big impression. Don't underestimate the impact of a compelling headline! Write exciting and clear headlines using rich keywords.
Along with a great headline, make sure your meta descriptions are attractive and elaborate on the topic of your article. Remember that search results show the title and meta description in the search results, making them suitable!
4. Use keyword-rich phrases for SEO and content creation
Headlines should have a relevant keyword throughout your content to satisfy users and search engines.
Also, remember that too many keywords will put off your readers and might result in getting a penalty from search engines for keyword stuffing.
Use keywords in the content with a natural feel. Other than using keywords throughout the body, tag a few relevant keywords for each post.
5. Structure your posts
Even if the content of your post is well-created, it will not have an impact if it is unorganized. You must break your content into smaller paragraphs with subheadings.
This way, the content is easy to read and keeps the readers engaged. Back-end organization is another key for search engines. Using proper tag hierarchy while taking headlines like h2, h3, etc., is essential.
6. Incorporate imagery for an SEO optimized content
Make your posts enriched with images! People are visual. Putting up an image in a blog post can make a big impression. Make a Pinterest account for efficient content marketing if you don't have one.
Promote your blogs across your other social media channels. Posts with images can also be pinned. This creates one more source of the traffic to your website.
7. Propel content with social media
Social media is an invincible platform that can help increase the reach and engagement of your content. And the stuff found on social media is bound to be shared by visitors.
Always publish your article on social media handles and forums with engaging descriptions and a call to action. You can only gain a lot of traffic if people share your post.
8. Promote natural link building
Link building is a popular way to gain some authority over your blog. The links are an essential factor for ranking the blog. Linking your articles on your blog ensures a link back to your website.
If you are creative enough to put infographics or videos, it might help promote your content sharing on any platform. The more shareable content you create, the most likely you will have to get authority from a big website.
9. Monitor your activity
Monitoring your efforts is the best way to know how friendly your content is. The easiest way to track your page views and time spent on the page is to use Google analytics.
Engagement or bounce rate gives you a clear idea of how long a person stays on your website. It also shows you the social interactions like likes and shares, so you know how viral your post is.
These simple metrics will give you a good idea of which content pieces are like and well received by the audience so you can create a similar type of content.
What else can you do to improve your SEO content strategy?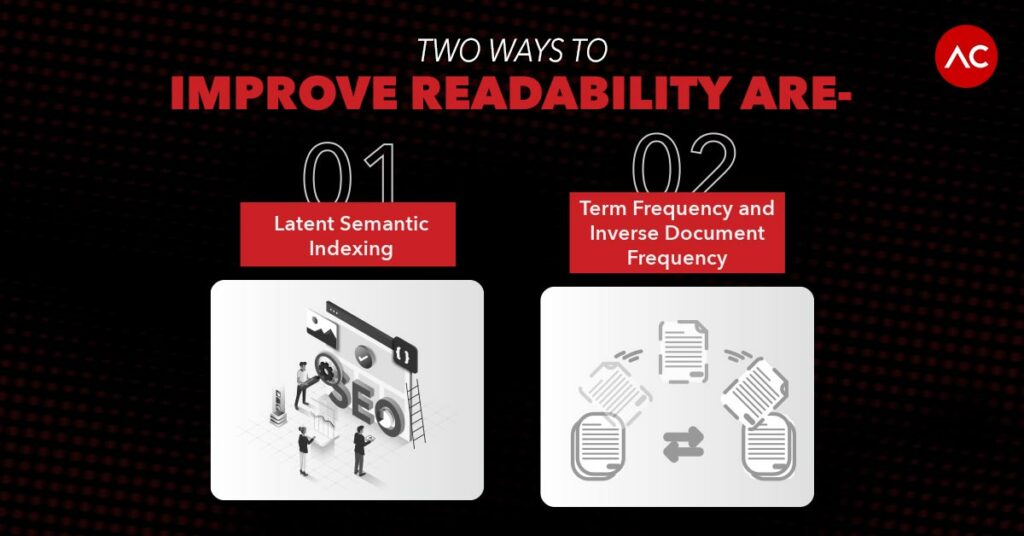 Understand Google's Algorithm
Google's algorithm considers several factors when determining the rankings, such as the quality of the content and the relevancy of a particular search query.
The algorithm understands that people are looking for fresh and bold content. They're searching for eye-opening insights which will blow their minds.
So if you publish something very generic, that's just not going to impress your viewers, and Google will notice.
Hence for better engagement, dive deep into topics, and try to include stats, graphs, and images.
Know How to Find Keywords
Keywords are the essence of SEO. Without keywords, you have a negligible chance of ranking. With the ability to find good keywords, you can be the champion in content writing.
Fortunately, Google has some tools that let you do keyword research, and it's for free! Their Ads tool, Keyword Planner, is an excellent place to start learning keyword research on a beginner level.
Use Bold & Bullet Points Wherever Possible
Bullet points or any listicle look visually cleanest in any blog. These can help organize full sentences, phrases, or small pointers. It helps improve readability and makes the content look more professional.
Numerical lists are also best reserved for content that needs to be in a specific sequential order, such as a 'top rated' list.
Write Long Content
Long-form content is a piece of writing containing anything between 1,000- 7,500 words. It is recommended to write down long-form content as it tends to cover a lot of information.
The whole point of the content is to offer the answer that the audience is looking for, along with the additional content they didn't even know they needed!
Make Every Sentence Unique
Uniqueness is what makes your content authoritative. Make sure your content is completely different from other competitor content on the web. This is important as it can greatly enhance search engine optimization (SEO). And make sure you avoid the inclusion of duplicate content even more minimum percentage.
Use Varied Content Types
There's no shortcut to succeeding in content marketing with just one type of content, especially when there are more than 100 types of content. Leverage all of them, including infographics, tutorials, landing pages, and podcasts, to make the most of your content.
Here are some other additions to content types-
Blog posts
Emails
Video content
Social media content
Guides
Ebooks
Webinars
Press releases
Case studies
White papers
Write Meta Information
A meta description generally informs and interests visitors with a short, relevant introduction of what the page is about.
They are like a pitch to convince users that this page is exactly what they want. Also, it's very important from an SEO point of view.
By scanning the meta description, Google must understand what kind of content is on the page. If it finds an inconsistency between meta description and content, it might not rank your page.
Use Plenty of Subheadings
Section headings and subheadings are a great way to organize content to improve readability.
The page should be collected in a hierarchy- Section Heading (h2) first, followed by subheadings in sequence- Section Subheading (h3) will go under Section Heading (h2).
Then there can be a smaller Subheading (h4) under a Section Subheading (h3), etc.).
Readability
Improving readability has a direct impact on user engagement metrics.
It is the most important area that Google looks into for ranking web pages. In the last Search Ranking Factors Survey by Moz, several experts said that reading level was a mid-tier ranking signal for page-level keyword-agnostic features.
However today, several things have changed in Google's core algorithm over the past few years. Today, user experience plays a much bigger role now.
Two ways to improve readability are:
Latent Semantic Indexing
Term Frequency and Inverse Document Frequency
Here's how you can improve the readability-
LSI (Latent Semantic Indexing)
Google has become smarter in matching and processing queries with relevant web pages from their indices. Search engines use Latent Semantic Indexing to figure out the term and word relationships and their evolution over the past decade. For marketers, It's vital to have semantically related terms in your writing.
Use more entities and nouns (for example, mentioning famous personalities or brands).
Use synonyms or other close variants (in natural language) instead of using primary keywords multiple times within the content (for example, "dog pictures," "dog pics," "photographs of dogs").
TF-IDF (Term Frequency and Inverse Document Frequency)
Include terms or phrases used by your competing pages ranking for your target search query.
Google has several factors for this specific search listing (other than the usual organic search ranking factors). It is more important to ensure that your content is well-prepared and formatted to adapt to these relevant queries. Based on observations by experts, below are the key signals Google uses to rank the pages:
Provide the most accurate and logical answers to these types of queries.
Engagement metrics matter
Quality and quantity of links pointing to the page.
How to format content for Google Answer Box:
Put a section where the header (h2, h3, or h4) states a question
Provide a concise answer or an array of answers to the targeted query.
Search crawlers and users should find this section quickly.
Hooks for SEO content writing
Internet statistics report said there are 2.7 million blog posts every day. With content saturation in almost every niche, it has become a challenge for readers to find something uniquely valuable. That's why offering information that people can't find on every other blog is the key to maintaining the content's age.
The goal is to give your readers what they'd least expect to find in the content. This could be a surprising element within your content. It can be anything useful, practical, actionable, or just original.
This approach to writing is very useful, especially in blogging. Incorporate the following aspects so that your content answers the readers' questions.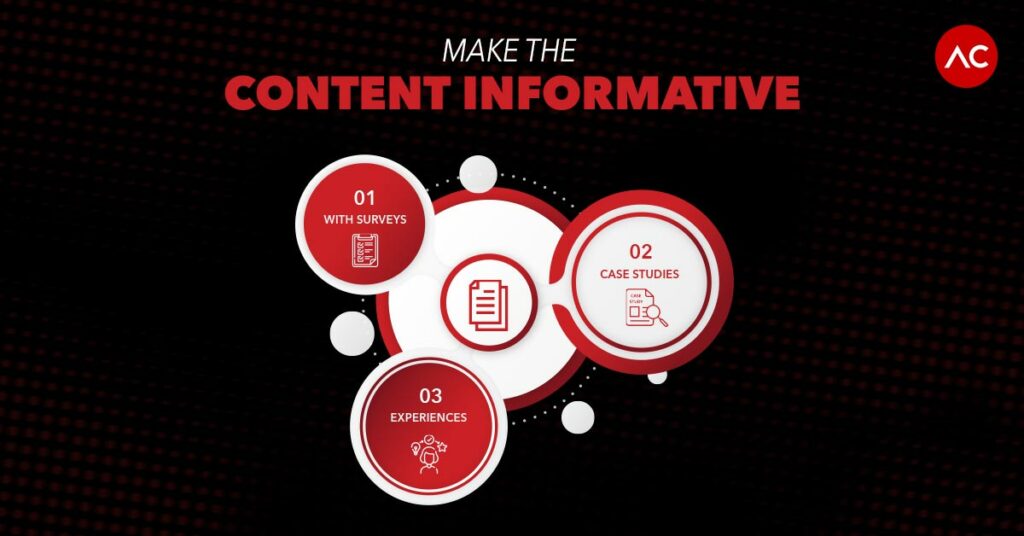 Provide value to the readers by adding-
Surveys
Personal experiences
Your own case studies
Connect or combine other publishers' stats and ideas
Aim to Convert
Every content you create should have its own goal or purpose. Mostly, we make content to rank our site for the particular target keywords. However, we often forget what to do with the traffic. Following the below tips can help you utilize traffic the right way.
How to use the traffic-
Building relationships with influencers and publishers by citing their works.
exemplifying the brand's expertise in attracting business leads
Strengthen readership by building your social following base.
Put out consistent efforts to educate your target audience about what's new.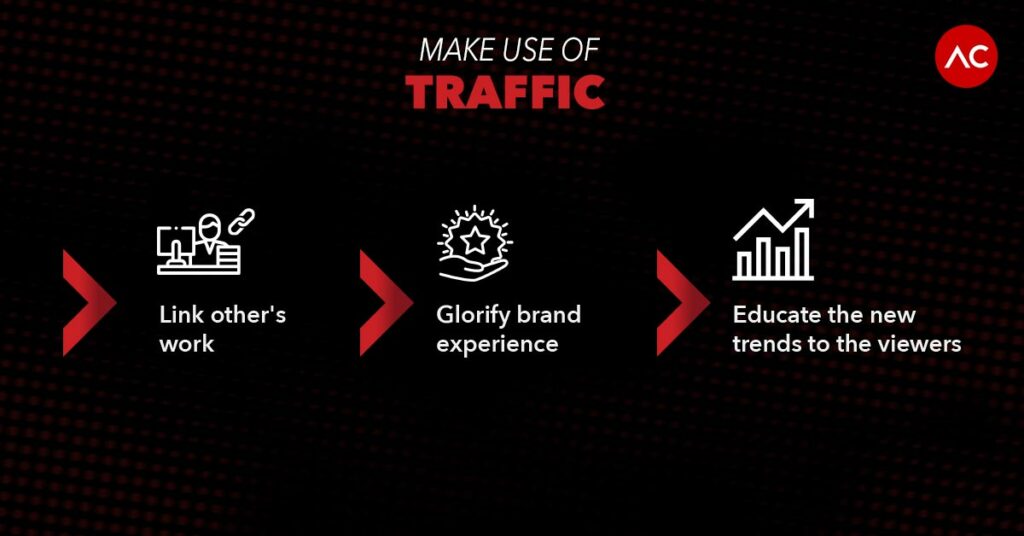 Principles to increase content's ability to convert visitors:
Help readers solve their problems.
Aim to educate— this is a great way to influence people and is the best way to sell
Encourage readers to take action (include relevant CTAs, and worksheets in your guides)
Include Quotes and Stats from Credible Sources
Link out to highly authoritative websites or sources. It is another signal for both Google and users to find out if the information provided by a piece of content is relevant. It's also essential for search algorithms, as it gives them a better understanding of the relationships and associations among web entities and titles.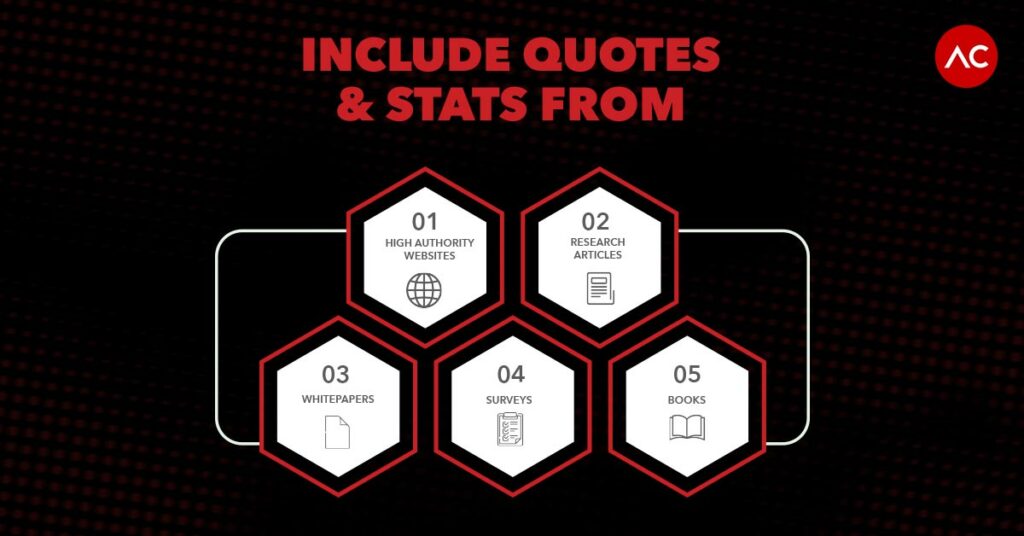 Citing other people's works opens up collaboration opportunities for you, mainly when you write great content. It's one of the best tips to engage and build rapport with influencers in your industry. It can further boost your content amplification efforts.
Conclusion
Getting ranked on the top pages is not easy, but you might be able to achieve it with the right SEO writing practice. These tips will surely help you improve your current position on search engines regardless of which industry you are writing for. Just remember, it's a lot more than keywords. Try to implement all these tricks and observe any changes. For any queries about SEO writing, let us know in the comments!
Faqs
What is a good on-page SEO score?

The SEO score tells how good your website's technical aspects and user-facing features are. It all contributes to search engine optimization and helps you rank higher, generating more organic traffic. The final score depends on various aspects like mobile usability, user experience, content, and authority.

The best way to determine the SEO score is to check the domain authority. It can vary anywhere from one to a hundred. The more the number is, the better your authority is. Domain authority ranging from 1 to 10 means the website is poor and has a weak SEO score.

A score anywhere from 11 to 20 means the site is decent, but it still has a lot of growth. Anywhere from 21 to 30 means, your website has good signs of SEO. And the score above 30 means your website is doing the right SEO and needs to improve more and more.

What is an SEO crawler?

Search engines send out crawlers to collect data from the internet. Every time a crawler visits a website, it reads over the entire content, including the blogs of the website, and stores it in the data Bank. Depending on the SEO level, every website performs the crawlers index the blogs for numerous keywords.

How do I find SEO keywords?

The keyword is the typical kind of search query performed by people. To find keywords, first, you should list critically relevant topics that revolve around the theme of your website. Now you need to pick the keywords to help you rank that particular blog.

Among so many keywords, you need to find SEO-enriched keys. Use tools like Ahref and Semrush to research and find a list of less competitive keywords, high in volume and long-tailed.

What is Content Strategy?

Content strategy is how you use content to engage your customers and achieve your business objectives. By content, we mean all forms- written, images, infographics, audio, and video format. A good content strategy effectively uses content that helps you engage your viewers and customers at all stages of the marketing funnel and improves conversions.

Learn more: What is Content Strategy?