Most Important Pillar of your Online Marketing Strategy
If you are a Brand owner, your Facebook Business page is your most important online real estate and the most important pillar of your Online Marketing Strategy. Believe it or not managing it well could result into tremendous advantage for your brand and business in the long run. Experts believe that in future Facebook will draw largest amount of ad spends online: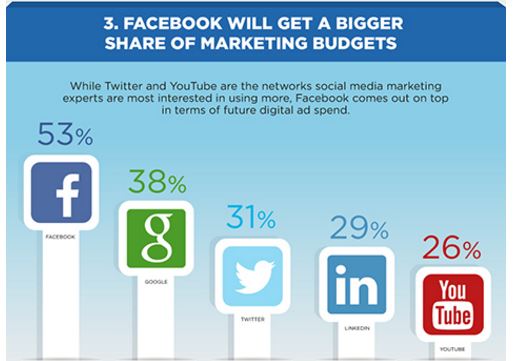 Therefore if you happen to be one of those advertising online in future, you can not miss Facebook. However just imagine that if you have not already started building your Facebook Business page now, you will have even lesser time to build consumer franchise and your Facebook advertising will not yield desired or good results. Therefore it is a must to start building your Brands or Businesses Facebook page now. BrandLoom Consulting will help you manage your page through its Digital Marketing Services Practice or you can also manage it internally by using the below guide. However before we talk about how to Manage Facebook Business page effectively, please follow the below guidelines to create a Facebook Business Page:
How to Create Your Brands Business Page on Facebook
To create your Brand page go to your Facebook home page (Please note that I am assuming that you already have a Facebook account, if not please create your Facebook account first) and find Link "Create Page" under section "PAGES" and click on it
Once you click "Create Page" you will see the below screen where you need to select the type of account is most appropriate for you
Follow the link and create your account and invite your contacts, friends and family to like your page. This is a basic and a very first step of page creation on Facebook.
How to Manage Facebook Business Page Effectively
However this article is not simply about tips to create a page it is about how to maximise returns through this page. Following steps will illustrate tips on how to manage Facebook page effectively.
Step 1: Access your Facebook Business Page as the Page Itself
Yes, you as an individual have created the Facebook Business Page and you might be having all the rights to administer it and probably you are the business owner. However, it is also a fact that you as an individual and your Brand or Business are two separate identities. Therefore it is a must that you manage your Facebook Business Page as the page itself.
Unlike Twitter, when you create a Facebook Business Page, you have to have an exiting Facebook user account and only then you can create a Business page. Therefore your Business page and your individual page are linked to each other. So when you use your Facebook Business Page to connect to your audience it is a must that you interact them as the Business or Brand Page, as they may or may not know you individually. To access your Facebook Business Page, go to your Facebook bookmarks Page to login as the specific page. Once you are on the page From there, click on the link to the page you want.
When you use Facebook as the relevant page to like other Facebook pages or comment on posts, it will help you build conversation with your audience. Please see how the Page will start to look after you have logged in as the Business Page itself.
Step 2: Navigate on Facebook Business Page with Top Menu Bar
The Top Menu bar of your Facebook Business Page will be quite handy when you want to navigate through the most important features of your Business page.
Item 1: Using Page to revert back to Front Page of your Facebook Business Page
of your Facebook Business page is "Page" which will take you back to your Facebook page from your Messages, Notifications, Insights, Publishing Tools and Settings.
Item 2: Using Message Feature to Connect with Audience Privately when they want
Second Item of your Facebook Business page is "Message", which will allow your audience to connect with your directly with a private message (however you will not be able to send direct message to your customers who have not already messaged you). This will allow you an opportunity to provide personalised and contextual inputs to your customers.
Do not forget to enable this feature of Facebook page by clicking the settings button on the Right corner of the Top Menu Bar. Once you click you will see the following screen, which will allow you to set your message preferences: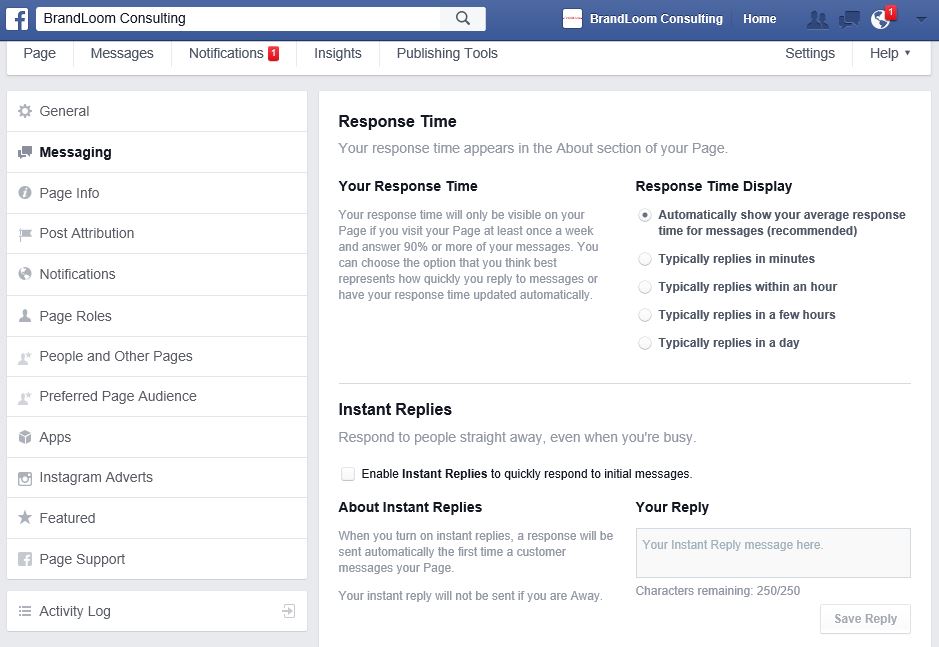 A great feature in Messages is Instant Replies, which will help you instantly acknowledge your audience mail.
Item 3: Using Notification Feature to stay up to date on action on your page
The third item on top menu bar of your Facebook Business Page is Notification section. This section allow you to get a quick peek into action on your Facebook Business page.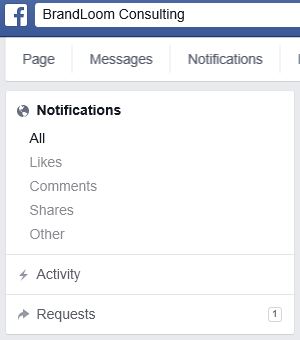 This is where you will see recent likes, comments, shares, other activities and requests. Just keep watching this space for all the latest happenings on your account.
Item 4: Using Insights Feature to Take Advantage of Facebook Analytics Tool
Facebook Insights feature is its simple yet effective Analytics tool. This is where you will learn more about your Facebook Business page's audience, reach and engagement. Insights toll will show you which page posts get the most engagement, and whether your fans match your ideal customer base (age ranges, gender and location). Here you will also find how people find your page. These Insights are powerful as they are actionable.

Item 5: Using Publishing Tools Feature to Schedule and Publish Posts on FaceBook Business Page

The fifth item on your Facebook Business page helps you create updates, which could be posted instantaneously, or in future at a schedules time or can be saved as a draft for posts at a later date. To publish a status, photo, video, offer, event or milestone immediately, go to the Published Posts section and click the Create button at the top right.

Step 3: Configure your Setting on your Facebook Business Page
The settings tab on the right hand corner of the Top Menu Bar allows Facebook Business page owner to configure Settings.

Settings Tab allow Facebook Business page owner to configure the following:
General Settings: The General settings on your Facebook Business page allow you to configure visibility of your page, private messaging,

tagging permissions and comment moderation.
Messaging: Messaging settings to communicate average response time and instant answers to audience.
Post Attribution: Post attribution tab allow you to set posts attributes for your page.
Notifications: The Notification tab allows you to configure how and when you want to be notified about specific activity related to your page.
Page Roles: The page roles tab allow you to assign different roles to people who work on the page. Everyone who works on your Page can have a different role depending on what they need to work on.
People and other pages: This tab allow you to see people or pages who like your page. You can also see the banned users from your page.
Preferred Page Audience: This tab allow you to set your target group so that Facebook can post updates infront of people relevant for your business.
App: App section allow you to see the Apps which are in use on your Business page and also to configure settings for desired operations.
Instagram Adverts: You can also connect your Instagram account on this page if it is relevant.
Featured: This tab allow you to set featured likes and page owners on your Facebook Business page.
Page Support: This tab allow you to seek support from Facebook team.
Activity Log: This tab takes you to a page where you can see each and every activity on your business page properly bifurcated in the form of a log. This section also allow you to Highlight, hide or delete an update.
Facebook is a fantastic Tool for businesses and Brands. With their consistent innovation it will be a much bigger force to recon with in future and one can not ignore it. Therefore the earlier you start the better it will be for you in the long term by using the tips on how to use Facebook business page effectively or by simply calling or writing to us.