Hey there,
In Today's Email:
📈 2X Your Traffic : 3 Rarely Used Content Techniques!
🙋🏻‍♀️ Social Media : 5 Clever Ideas You Haven't Tried Yet!
₹ Double Your Conversions: Revamp Your Website's UX!
🕊️ Brand Story : How Dove Used 'Generation Effect' To Make Its Campaign More Effective!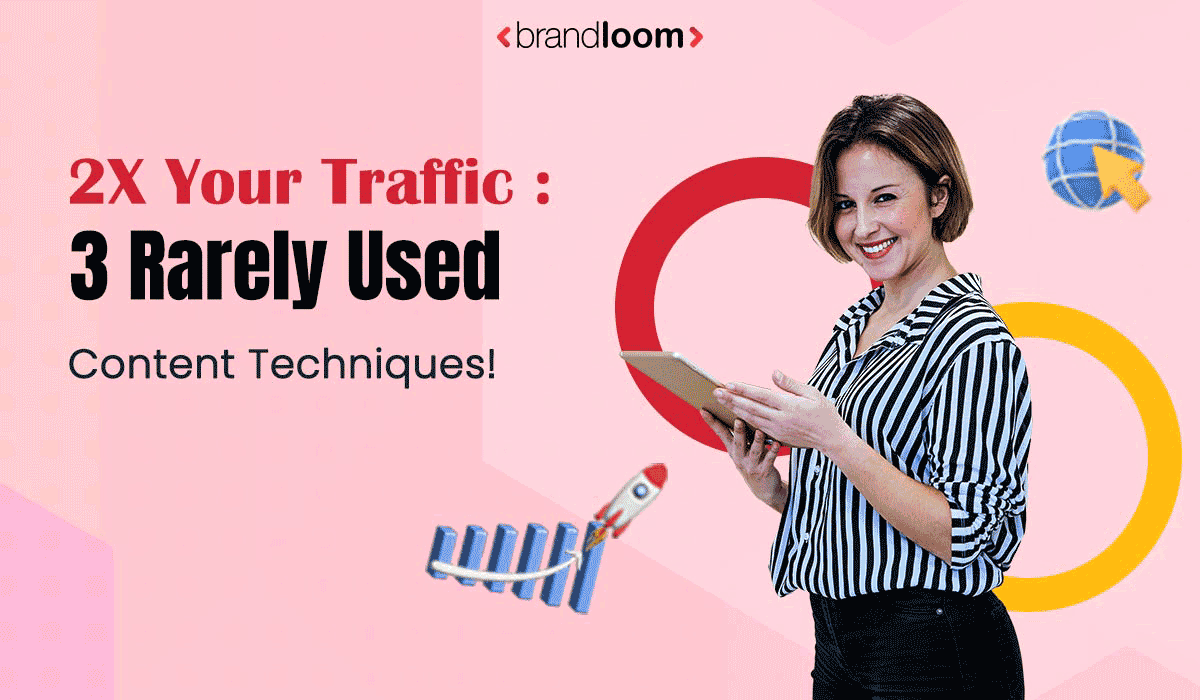 📈 

2X Your Traffic :

3 Rarely Used Content Techniques!
Did you know 61% of marketers believe improving SEO can help grow organic traffic?
Over the last few years, we have observed that SEO leads have a 14.6% closing rate which is 8X higher than outbound leads, which have a mere 1.7% close rate. 👥
Moreover, brands that use SEO techniques consistently, witness 2x SUCCESS. 🚀
Not using SEO? Don't worry; joining the SEO game is never really late! Here are 3 rarely used SEO techniques that can give your organic traffic a jumpstart:
1. Long-term Influencer Collaborations:
Long-term influencer partnerships can dramatically boost a brand's organic traffic by creating an authentic presence across various digital channels.
When marketers work with influencers, they can benefit from their devoted audience and acquire followers. However, long-term collaborations can result in sustained brand engagement, increased brand awareness, and enhanced authenticity and credibility.
Example: The association between fashion label Revolve and influencer Aimee Song (@songofstyle) is an example of a long-lasting influencer connection that has been successful. Aimee and Revolve have been working together for a while, and she often uses their merchandise in her video. 💃👗
Takeaway: Your brand can 2x organic traffic and witness 3x success in the long run by forming dependable and sincere connections.
2. Evergreen Content Optimization:
Evergreen content optimization can significantly improve and stabilize organic traffic. 🌳
Brands can increase their visibility in search engine results and generate organic traffic by optimizing evergreen content with relevant keywords, by updating it frequently, and promoting it across multiple channels. 🔍
For example, an exhaustive guide on "How to Start a Blog" can continue to attract organic traffic for years because it addresses a common and timeless topic.
Similarly, a tutorial on "Basic Photoshop Techniques" can generate consistent organic traffic as people continue to seek such information. 📷
Takeaway: By investing in evergreen content optimization, your brand can build sustainable organic traffic and establish itself as the authoritative source within its respective industries.📈🔥
3. Repurposing Content:
Repurposing content is an effective strategy that can boost SEO performance overall. By repackaging existing content into new formats, such as infographics, videos, and podcasts.
Brands can reach new audiences and improve their visibility in search engine results. ♻️
For instance, a blog post on "Top 10 Healthiest Recipes" can be repurposed as a video tutorial or an infographic to accommodate the preferences of various users.
This increases user engagement and can bring backlinks and social shares, thereby increasing organic traffic & enhancing search engine rankings. 🎥🎙️
Takeaway: Repurposing content can enable your brand to maximize the value of its existing assets and expand its reach across multiple platforms. 💡
Fix your traffic & lead problems with BrandLoom. Start Today! –
https://www.brandloom.com/seo-services
🙋🏻‍♀️ Social Media : 5 Clever Ideas You Haven't Tried Yet!
Recent survey – 89% of customers will make a purchase from a business they follow on social media, and 90% of consumers have used social media to engage with a brand.
If your brand has not entered the social media arena, you are lagging behind. ⏰
Our clients have witnessed social success by implementing our unique social media strategies. 💪
Here are our top 5 clever social media ideas you MUST TRY :
1. Gamify Your Social Media Presence:
Add gamification to your social media strategy by creating contests, & challenges. Design interactive games or puzzles that require users to engage with your content, visit specific pages on your website, or complete certain actions to win.
2. Create Interactive Polls or Quizzes:
Engage your audience with interactive polls or quizzes. Pose questions about your industry, products, or trends, and allow users to vote or provide input.
This will create a fun and interactive experience and even provide useful insights into your audience's preferences and opinions. Consider offering incentives or rewards for participation to boost engagement further.
3. Provide Social-Only Discounts.
Weekly offers in the newspaper or email discounts are examples of conventional advertising. Social media is no exception. These discounts are offered to a certain part of your audience and expire after a set period of time. ⏰
The easiest method is to include a code in a post. Experiment with exclusive social discounts. Try making limited-quantity flash sales via Instagram Stories or publishing an Offer on Facebook.
Boost your brand by leveraging the power of social media today!
4. Promote your social links in email signatures and newsletters.
If you're sending out newsletters on a regular basis, include the social links at the bottom. It is another subtle reminder to the receivers that you are there if they need your assistance. 👀
You can also add links to your email signature if your organization often communicates outside, such as to prospective sales prospects. This is another branding opportunity that should be taken advantage of. 🖊️
5. Create Targeted Ads.
On Facebook, there are several methods to target someone with adverts. To begin, you may include the Facebook Pixel on your website. After that, you may automatically target website visitors with adverts. 🎯
Utilize Facebook audience data to target interest groups. For instance, if you've recently purchased shoes online, you may have noticed that you're getting more shoe adverts than usual. This is because Facebook saw your purchasing behavior and added you to that interest category. 👟
Ace social media. Become popular! Start Today- 
https://www.brandloom.com/social-media-marketing-services
Fun Fact About Us
82% of BrandLoom clients see an uptick of at least 20% in their revenue after the implementation of BrandLoom's strategies.
 ₹ Double Your Conversions :  Revamp Your Website's UX!
According to a survey, 65% of companies worldwide struggle to perform well since they aren't able to create visually appealing designs for their website. 🌍
This leads to poor user interaction and engagement with their website.
Everyone has been there. But don't worry! If you want to wow your audiences and keep them hooked to your website, here are three innovative methods to enhance your website's user experience (UX).💻
So grab a cup of coffee, sit back, and let's get started!💡
1. Experiment with Visual Hierarchy: 
Visual hierarchy refers to the prominence accorded to various page elements based on their size, color, and position. Using a visual hierarchy, you can direct users' attention to the most vital information and actions.
Use larger, bolder fonts for headlines and smaller, lighter typefaces for the body text.📈
2. Add Micro-interactions to your website: 
Sometimes, the smallest details impact the most. When a user interacts with a website, he or she may experience micro-interactions. These interactions may considerably improve the user experience by offering feedback and direction.
For example, when a user hovers over a button, a microinteraction may display a tooltip describing the button's performance. This prevents the user from bouncing off the page and also makes them curious about your brand. 💬
3. Use voice user interface: 
Have you ever wished you could simply speak to your computer instead of typing? You can, however, use VUI! You may create a more natural and intuitive user experience by incorporating voice commands into your website. VUI may make the process of ordering a pizza or looking for a product quicker and more convenient. 🎤
Is your website unresponsive & slow? Get a quick UIUX revamp! 
https://www.brandloom.com/ui-ux-design-services
 🕊️ Brand Story :  How Dove Used 'Generation Effect' To Make Its Campaign More Effective ✨
On April 14, 2013, Dove launched a campaign that went VIRAL in a matter of few days. According to an article, the campaign had attained 15 million views in less than 7 days. 🚀📈
Similarly, on April 18, the campaign was among BuzzFeed's top 10 most viral content. 🌟
So, you are probably wondering what Dove did to get all the attention. 🤔
Well, the answer lies in Generation Effect. 💡
The generation effect is when you remember information better if you actively create or generate it yourself rather than just passively receive it. 🧠
When it comes to branding, the generation effect refers to the idea that involves customers in creating or generating brand content or experiences that can enhance their engagement and connection with the brand. 💪
A prime example of the Generation Effect is the "Dove Real Beauty Sketches Campaign." Dove, a personal care brand, aimed to challenge societal beauty standards and promote self-acceptance. 🌺
In the campaign, women were invited to describe their appearance to a forensic sketch artist who couldn't see them. The artist then created two sketches: one based on the women's self-descriptions and another based on descriptions given by strangers who had interacted with the women.
The stark contrast between the two sketches highlighted how women often perceive their beauty negatively. 😮
Now you are probably wondering what results the campaign achieved through the generation effect. 📊
The campaign tapped into the generation effect by addressing the emotional aspect of self-perception and self-esteem. By showcasing the impact of negative self-perception and the potential for self-acceptance, Dove aimed to evoke empathy and resonate with their target audience. ❤️
The "Dove Real Beauty Sketches" campaign went viral, generating millions of views and sparking conversations about beauty standards and self-image. It received widespread media coverage and won numerous awards for its powerful message and emotional impact. 🌍🏆
Takeaway: This case study demonstrates how brands can effectively use the generation effect to create an emotional connection with their audience, challenge societal norms, and promote their brand values of inclusivity and self-acceptance. 🌟🤝
By addressing a deeply personal and relatable topic, brands can successfully engage consumers and strengthen their brand image within the industry. 🙌🏼💼
Build a strong brand and dominate the market. Contact Us
https://www.brandloom.com/strategic-branding#brand-design-services
That's it for today, thanks for reading.
Yours Sincerely,