Hey there,
In Today's Email:
📣3 Creative Push Notification Strategies: 7x your Retention Rate
🔓 Unlocking the Secrets of Brand Trust: 3 Valuable Lessons from LEGO
💥Promote Short-Form Videos Like A Pro: 3 Ways To Make It More Impactful
🎯3 Unique Marketing Strategies: Market To GenZ Like A Pro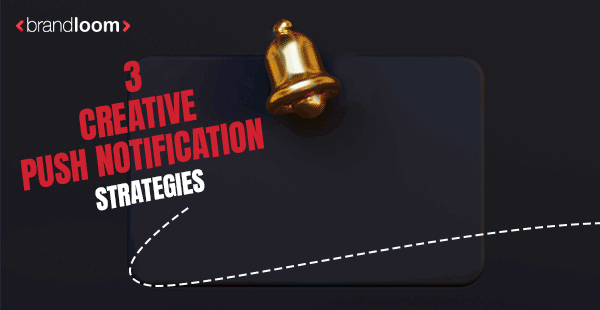 📣

3 Creative Push Notification Strategies:

 7x your Retention Rate
Did you know that push notifications can boost your app engagement rate by 88%? 📱
According to a recent study, push notifications can increase a brand's user retention rate by 5-10 times.📈
Moreover, E-commerce businesses that use push notifications effectively have witnessed a 278% increase in engagement rate and a 7% increase in retention. 💼
So what is a push notification? 🤔
A push notification is a message that pops up on a mobile device or desktop. App publishers can send them ANYTIME, even if the users are not actively using the app or browsing the website.💻
For instance, you would often notice Zomato using push notifications to inform people of the LIMITED TIME offers on various restaurants. 📲
According to a recent report, 70% of online businesses have failed to grow their business since they fail to implement push notifications effectively. 😕
Here's how you can use push notifications to increase your brand's engagement and retention rate:
1. Interactive Polls and Surveys:
A retail app can send push notifications to users, inviting them to participate in interactive polls or surveys. This engages users and provides valuable insights for the business to make data-driven decisions.🗳️
Example: The clothing retailer, ASOS, used push notifications to engage their app users by sending them interactive polls to vote on their favorite outfits. This allowed ASOS to gather customers and offerings accordingly.👗
Takeaway: Engage users and gather valuable insights by using push notifications to conduct interactive polls and surveys.📊
2. Personalized Recommendations and Alerts:
An e-commerce app can send push notifications with personalized product recommendations based on user preferences, browsing history, and purchase behavior. Additionally, businesses can send alerts when a desired item is back in stock or when there is a price drop on a saved item, creating a sense of exclusivity and urgency.🛍️
Example: You can use push notifications to send personalized product recommendations to users based on their browsing and purchase history. They also send alerts when items from a user's wishlist go on sale or are back in stock.💡
Takeaway: Utilize user data to send personalized recommendations and alerts, enhancing the user experience and driving conversions.🛍️
3. Virtual Events and Webinars:
Businesses can use push notifications to promote and remind users about virtual events, webinars, or live streams. This can include sending notifications with event details, speaker line-ups, and exclusive access codes. By leveraging push notifications, businesses can increase event attendance and engagement.🎤
Example: TED, the renowned conference and speaker series, uses push notifications to inform their app users about upcoming TED Talks, providing them with a convenient way to access inspiring content and stay connected with the TED community.🧠
Takeaway: Promote virtual events and webinars through push notifications to increase attendance and engagement.🤝
Sell online like a boss. We can help
https://www.brandloom.com/ecommerce-services
‍🔓 Unlocking the Secrets of Brand Trust: 3 Valuable Lessons from LEGO
According to a recent survey, 81% of consumers are more likely to purchase a product from a brand if they trust it. 😊
Similarly, another study shows that 48% of consumers are willing to switch their preferences between brands if they don't trust the company. 😕
That's why building a strong brand trust significantly helps improve a business's financial success by 2x. 💪
So, what is BRAND TRUST? 🤔
Brand trust is the confidence consumers have in a brand. It's built through reliability, credibility, and consistent delivery. It influences purchase decisions and fosters loyalty for long-term success. 🤝🏼
In a world where consumers have countless options, establishing trust with your audience is crucial. LEGO has successfully built a brand that is beloved and trusted by millions of people worldwide. 🌍
Let's take a look at the 3 key strategies that contributed to LEGO's remarkable success in building strong brand trust among its consumer base:
1. Consistency and Quality:
Throughout its history, LEGO has always remained committed to quality. LEGO has continually lived up to its promise of producing high-quality goods, from the style and robustness of its bricks to the entertaining play experiences they provide. 🏆
LEGO has gained the confidence of both children and adults by prioritizing quality,  promising that its products are secure, dependable, and exciting.
Takeaway: Brands should always strive to provide their consumers with consistent, high-quality products and services. This ensures that consumers develop a strong sense of loyalty towards the brand. 👍🏼
2. Customer Engagement and Co-Creation:
Customers have always been actively involved in producing new LEGO goods and experiences via active engagement with the company. As such, the firm was able to promote a feeling of community and cooperation via projects like LEGO Ideas, where fans may submit their own concepts for possible LEGO sets. 🎨
Moreover, LEGO has successfully developed trust and loyalty by engaging its consumers in the creative process and listening to their feedback, making them feel important and heard.
Takeaway: Involving customers in the brand experience creates ownership, satisfaction, and valuable insights, driving innovation and enhancing the overall customer experience. 🤝
3. Social Responsibility:
Over the years, LEGO has taken significant steps to address social and environmental concerns. They have made commitments to use sustainable materials and reduce their carbon footprint. 👥
Additionally, LEGO has partnered with organizations like UNICEF to support children's education and development. By demonstrating a genuine commitment to social responsibility, LEGO has earned the trust of consumers who value ethical and sustainable practices.🌍
Takeaway: Social responsibility builds brand trust. Ethical practices, sustainability, and community engagement earn consumer loyalty. Addressing social and environmental issues enhances reputation and attracts value-driven customers for long-term success. 🌱
Want to build a strong brand reputation? Let's talk 
https://www.brandloom.com/strategic-branding/consultants
Fun Fact About Us
82% of BrandLoom clients see an uptick of at least 20% in their revenue after the implementation of BrandLoom's strategies.
💥 Promote Short-Form Videos Like A Pro :  3 Ways To Make It More Impactful 
Did you know that short-form videos of 30 seconds or less have an 80% viewer retention to long-form videos? 🔥
Moreover, 65% of top brands have reached 3X more people thanks to social media platforms like Instagram, TikTok, and Youtube. 🎯
In simple terms, short-form videos allow brands to quickly convey their message and capture the essence of their brand. They provide an circumstances to showcase creativity, storytelling, and brand personality. 💡
Here are 3 ways you can use short videos to up your social game:
1. Influencer Ads:
Influencer ads have become a prominent trend in short-form videos, with brands collaborating with social media influencers to promote their products or services. These ads leverage the influencers' large following and engaging content to reach and influence their audience effectively. 📲
For example, fashion brand Fashion Nova partnered with rapper Cardi B to promote their clothing line, significantly boosting brand awareness and sales. Similarly, fitness brand Gymshark collaborated with fitness influencer Whitney Simmons to showcase their activewear, generating a buzz among fitness enthusiasts. 💃🏽
Takeaway: Influencer ads offer brands a powerful way to tap into the influence and reach of popular social media personalities, driving customer engagement and brand growth. 🚀📈
2. Product Teaser:
Product teasers have emerged as a popular trend in short-form videos, where brands create intriguing and captivating videos to generate excitement and anticipation for upcoming product launches. These teasers often provide glimpses of the product, hint at its features, or create a sense of mystery around it. 🤫
For instance, Apple is known for its teasers showcasing sleek visuals and minimalistic details, building anticipation for their new devices. Similarly, automobile companies like Tesla use short videos to tease upcoming car models, showcasing innovative features and design elements. 🚗
Takeaway: Product teasers in short-form videos effectively create buzz, generate curiosity, and drive consumer anticipation, leading to successful product launches. 🚀
3. User-Generated Content (UGC):
User-generated content (UGC) has become a significant trend in short-form videos, where brands encourage their audience to create and share content related to their products or services. UGC adds authenticity and credibility to brand messaging as real users create it. 🤳
For example, Coca-Cola launched the "Share a Coke" campaign, where customers were encouraged to share videos of themselves enjoying a Coke with personalized labels.
This UGC increased brand engagement and created a sense of community among Coca-Cola consumers. Similarly, GoPro encourages users to share their adventure videos, showcasing the capabilities of their cameras through UGC. 🥤
Takeaway: User-generated content in short-form videos allows brands to tap into the creativity and enthusiasm of their audience, fostering brand loyalty and expanding their reach. 📣
Become No 1 on Social Media. Let's Talk 
https://www.brandloom.com/social-media-marketing-services
🎯3 Unique Marketing Strategies :  Market To GenZ Like A Pro 
Are you one of those businesses that ignore GenZ while marking your marketing strategy? 🌟
It is high time to start recognizing GenZ, or else you can lose some serious business!
Gen Z makes up approximately 32% of the global population, one of Earth's largest populations. 📊
Apart from that, Gen Z is tech-savvy, with 95% owning a smartphone. That's why you will notice most of their decisions are heavily influenced by media platforms. 📱
98% of the Gen Z audience have at least one social media account. 🌐
If you want your business to stay ahead of the competition, you need to upgrade your marketing strategies, and here's how: 💼
1. Embrace Authenticity:
Gen Z values authenticity above all else. They appreciate brands that are genuine, transparent, and socially responsible. To connect with Gen Z, aligning your marketing efforts with their values is crucial. 😇
Takeaway: Showcasing real people, stories, and experiences can help build trust and establish a genuine connection. Engage with your audience through user-generated content, influencer collaborations, and interactive campaigns encouraging participation and authenticity.✨
2. Leverage Social Media:
Gen Z is the first generation to grow up with social media integral to their lives. To effectively market to Gen Z, you must have a strong presence on platforms like Instagram, TikTok, Snapchat, and YouTube. 📸
Takeaway: Create visually appealing and shareable content that resonates with their interests and aspirations. Engage with your audience by leveraging interactive features like polls, challenges, and behind-the-scenes content. Collaborate with influencers with your brand values to amplify your reach and credibility.🚀
3. Prioritize Mobile Experience:
Gen Z is a mobile-first generation, with smartphones being their primary device for accessing the internet. Optimizing your marketing efforts for mobile devices is essential to capture their attention. Ensure that your website is mobile-friendly, loads quickly, and provides a seamless user experience. 📱
Takeaway: Invest in mobile advertising, such as in-app and video ads, to reach Gen Z, where they spend most of their time. Developing a mobile app that aligns with your business goals and provides to your target audience.📲
Become the next marketing giant in your industry. Get in touch with us.
https://www.brandloom.com
That's it for today, thanks for reading.
Yours Sincerely,