Hey there ,
In Today's Email:
📣Top 5 marketing trends of 2023: Be prepared to give the new year your best!
🎮Making B2B Marketing exciting: Is gamification the answer?
🧋The Starbucks Experience: Why Starbucks yells your name & not the order!
🛡 PRO Tip: This Is What Happens When You Add A Killer Content Strategy To Your Marketing ➔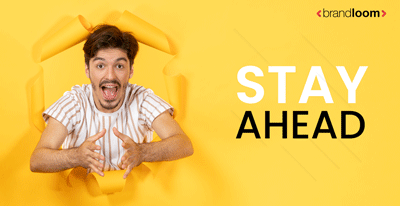 📣Top 5 marketing trends of 2023: Be prepared to give the new year your best! 
We hope you had a great Christmas 🎄!
And we wish you a wonderful and successful New Year, 2023✨.
With our clients' New Year campaigns already underway- this is the time to reminisce over the year gone by, take stock of the world, and gear up for the coming year 📅.
Here are our top predictions for the marketing trends of 2023:
Videos are going to stay short: TikTok and Instagram Reels are all the rage now. Short vertical videos 📲 are going to stay popular & brands that can use them right on the right platforms will get more engagement.
The Metaverse question: With powerhouse brands like Nike and Starbucks banking on the Metaverse's immersive experience; the world was prepared for big things to happen. However, Metaverse doesn't seem to have taken off 🚀 as expected; and as of now, nobody is sure whether it can live up to its hype.
Influencer marketing isn't going away: More businesses will turn to influencers to cut ✂ through the clutter and connect more effectively with their audiences.
Employees-turned-brand ambassadors: Audiences are looking to connect with brands that feel more authentic, and with people 👨‍👨‍👧‍👦 rather than a logo. Leveraging your employees to give your brand a human face will take you far. Go for a marketing plan involving employee advocacy on relevant channels for maximum gains.
LinkedIn to be a B2B powerhouse: All signs point towards more growth 💹 and engagement on LinkedIn, so include it in your marketing plans. Watch out for new features to create more opportunities to build your brand & get more followers.
🎮Making B2B Marketing exciting:

Is gamification the answer?
Denmark's largest B2B seller, Würth or Wuerth reported generating record leads by using gamification to engage their customers. The company said that 25% of all visitors who came to their website after participating in the gamification campaign made a purchase 💰.
Since the report came out, the marketing world has been buzzing.
If a company selling "boring" stuff like tools 🔨 and safety equipment can crush it with gamification, shouldn't it work like a charm for companies that sell more exciting stuff?
Before you jump on the bandwagon- take a breather .
B2B is a tricky space. Gamification 🎮may not work for everyone. For a lot of industries- which deal with service rather than products- gamification probably won't get you the leads that you want.
And the question also remains whether you can get the decision makers interested by giving them a personality quiz.
So our recommendation- if you want to test the waters, do a small trial run before diving in 🏊.
Fun Fact About Us
82% of BrandLoom clients see an uptick of at least 20% in their revenue after the implementation of BrandLoom's strategies.
🧋Why Starbucks

 yells your name & not the order
It's a rule of nature that if you ever order at Starbucks, your name will morph into something completely different when your order is called out 🗣.
But have you ever wondered why, despite the countless jokes around it, Starbucks always yells your name rather than shout out the order?
Starbucks counts on this psychological trick called the cocktail party 🥂 effect.
Scientists have observed that no matter how crowded or noisy your surroundings are (like in a cocktail party), you will always pay attention when you hear 👂 your name.
By yelling out your name and not the order, Starbucks prompts a reaction from the customers. Subconsciously, the customer gravitates towards the place 🏪 where they know their presence is registered.
Judging by how Starbucks has developed its cult following despite the often hilarious (wrong) name yelling, we would say they have got it down pat ✌.
 🛡PRO Tip:

  Your Business + Content Strategy = THIS Happens ↴
1. Improves Your VISIBILITY in search engines ⚙️
2. Increases Your BRAND Awareness 📺
3. Drives More TRAFFIC to Your website 📈
4. GIVES Users essential info. about Your BUSINESS, products or your services through articles instead of advertisements 📣
5. Websites with good content show 6X CONVERSIONS compared to websites that don't care about content 💰💰💰
6. Concise well-written content can BOOST Your other Digital marketing strategies! 🛠
BrandLoom can help you get started with a killer content strategy.
That's it for today, thanks for reading.
Yours Sincerely,