In today's digital age, where technology has made it easier than ever for consumers to find products and services online, it's essential for businesses to have a strong online presence. One of the most important aspects of building a strong online presence is Local SEO Techniques.
Local SEO techniques help ensure that your business is easily found by customers searching for your area's products or services.
However, with so many different techniques available, it can be difficult to know where to start.
In this article, we'll explore some of the most effective Local SEO techniques you can use to help your business stand out in local search results.
Why Local SEO for your Business
Let's face it, nobody wants to be on the last page of Google search results.
It's like being the last kid picked for a kickball team, except instead of just feeling embarrassed, you're also losing out on potential customers.
But fear not because, with the right Local SEO techniques, you can rise through the ranks and be the first result when customers search for businesses like yours.
So, put on your SEO thinking cap and get ready to climb that Google ladder to the top because this article will show you how to make your business the search engine's MVP.
Contact us if you are looking for Local SEO services for your business.
Why Local SEO is Imperative for Small Business
Local SEO techniques are extremely important for small businesses that run on a regional level.
This means that their main target base is confined to a particular location rather than a global or national base.
Generally, a national-level target audience needs SEO that focuses on ranking in searches across the country, while local SEO needs to appear on a SERP of a particular location.
You must market your brand products and services to local customers to make it happen.
Also, you need to optimize your website according to local SEO techniques, best performed by an experienced digital marketing agency like Brandloom.
The aim is to drive website traffic, leads, and conversion relevant to local customers. This is a focused strategy to compete against larger national or global brands.
By focusing on local-SEO techniques, you can neutralize the bigger brand's benefits that routinely optimize for broader keywords and rely on brand visibility instead of value propositions to get traffic.
Moreover, ReviewTrackers' study shows that 35% of all search traffic is local. Your business can lose significant traffic even if you serve nationally without local SEO.
Here are some of our main conclusions and noteworthy local search data from the study:
Mobile devices dominate local searches: Mobile or tablet devices are used to submit 57% of local search inquiries.
Millennials speak the local search language: When they're on the go, they're 50% more likely to utilise local search, and they're twice as likely than other age groups to look for a place to visit right away.
In local searches, consumers look for certain trust signs: Photos, Google reviews, and a company's ranking on the search engine results page are the top 3 variables that customers use to decide which business to patronise (SERP).
Only 4 review websites account for 88% of all reviews: The lengthy tail no longer offers as great of a return. Marketers should concentrate on reputable top directories that have domain authority.
In 58% of cases, local search optimization is not done: 31% are interested. However, only 30% of businesses truly have a strategy to profit from this high-converting traffic.
What is Local SEO
Local SEO is the process of optimizing a business's online presence in order to rank higher in local search results.
This includes claiming and verifying local business listings, optimizing website content for local keywords, and obtaining reviews and citations from other local websites.
The goal of Local SEO is to make it easier for people searching for products or services in a specific geographic area to find and contact a business that serves that area.
Local SEO is an important consideration for businesses that operate in a specific geographic location, such as a restaurant, retail store, or service provider.
Benefits of Local SEO
There are several benefits of Local SEO for a business; some of them include the following:
Increased visibility: By optimizing local search terms, a business will be more likely to appear in search results for people searching for products or services in their area, thus making it more likely for the business to be found by potential customers.
Increased Traffic: A well-optimized website for Local SEO will attract more visitors, which can increase the number of leads and sales for a business.
Cost-effective: Local SEO is a cost-effective way to increase a business's online visibility compared to traditional advertising methods such as print or television.
Increased competitiveness: Local SEO can help level the playing field for small businesses that may not have the resources to compete with larger businesses nationally.
Better targeting: Local SEO allows you to target customers in a specific geographic area, which is especially beneficial for small businesses that rely on foot traffic or service a specific location.
Positive Reviews: Local SEO can also drive positive reviews, which can be a powerful tool to build trust and establish a business as a reputable and trustworthy option for potential customers.
Increased Brand Awareness: Local SEO can help increase brand awareness for a business by making it more visible in local search results, which can lead to more brand recognition and trust in the community.
Long-term results: Local SEO is a long-term strategy, which means that the benefits of Local SEO will continue to accrue over time as the business continues to maintain and optimize its online presence.
Measurable results: Local SEO is a measurable strategy which allows businesses to track their progress, measure the effectiveness of their efforts, and make adjustments as necessary.
Improved customer engagement: Local SEO can help improve customer engagement by providing detailed information about a business, such as hours of operation, contact information, and reviews.
Better customer experience: Local SEO can also help improve the customer experience by providing them with relevant and accurate information about the business. This can include product and service offerings, location, and reviews from other customers.
Local SEO is a powerful tool for businesses looking to increase their online visibility, generate more leads and sales, and establish a strong online presence in their local community.
So let's talk about the top 10 local SEO techniques in this expert's guide to local seo.
Top 10 Techniques for Local SEO for Small Business
Here is how to do Local SEO for small businesses today:
1. Google My Business SEO: Best Local SEO Strategy
Optimize your google my business listing (Business Profile) to rank higher on Google Maps and gain visibility in Google Search local results simultaneously.
To be able to make the optimizations in your business profile, you need a Google My Business account related to that profile.
Just add the necessary information to your Google my business account dashboard, and that will appear as it is on your profile.
The same thing will appear in the Google search knowledge panel, maps, and local search results.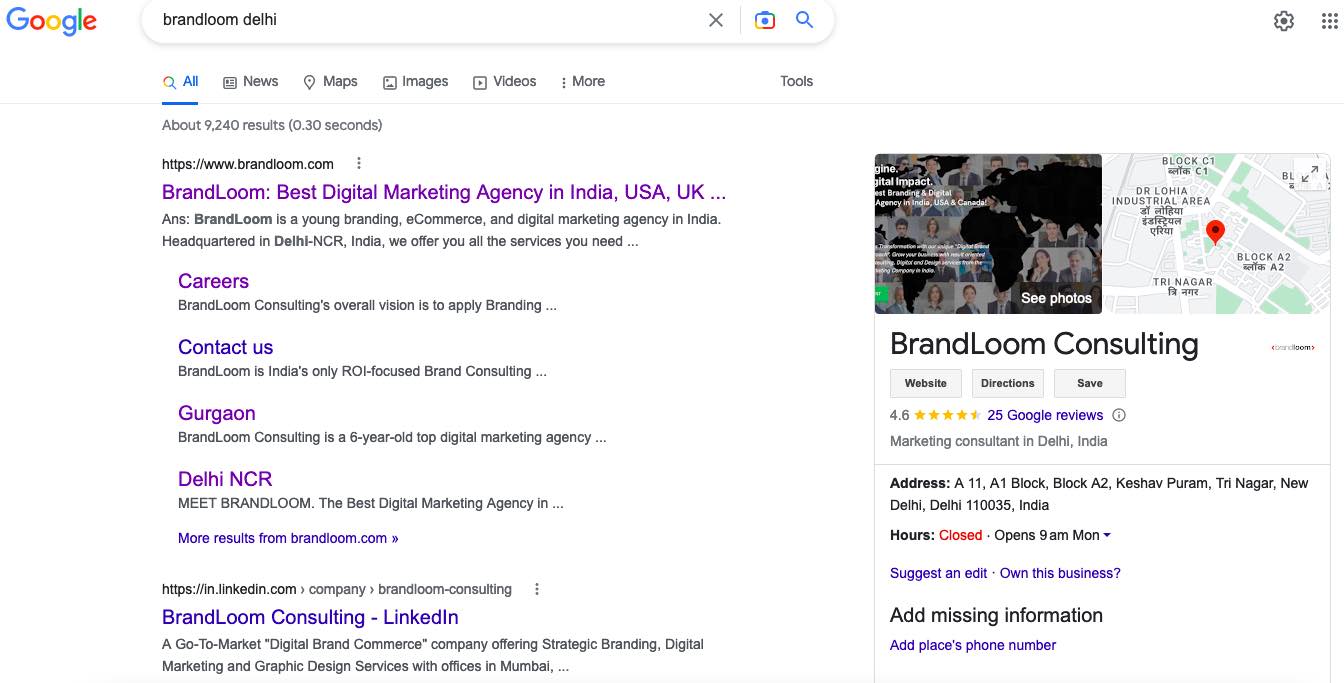 Also, it's necessary to keep updating your account with new modifications. To optimize your Business Profile on Google, you need to:
Create a Google My Business account
Verify ownership of the business
Provide updated, and accurate information
Include your logo, operational hours, acceptable payment methods, the product/service you sell, plenty of images, and other necessary information.
Encourage your potential customers to put reviews about your service online.
Respond politely to customer reviews
Publish posts (special offers, announcing products, events) to your Business Profile from the
Google My Business dashboard.
2. Optimize for Voice Search: One of the most prominent local SEO hacks
Voice search is bound to grow rapidly in the coming years.
Hence, in local SEO, it's important to understand how people ask questions when they use voice search on their device compared to when they type a query.
Interestingly, people use long-tail keywords more during voice searches than when they type.
You might need to adjust the SEO to fit the conversational tone for voice search.
For instance, you'll want to consider the traditional question starters- who, when, what, where, why, and how.
Also, identify user intent while optimizing for voice, as these searches are often performed when the user needs specific information.
For example, if a person is baking and wants to know how many tablespoons will make a cup, he expects a quick answer.
If a user uses voice search to ask about business hours, this information should also be immediately available.
3. Get Regular Reviews from Happy Customers
Your customers can help boost your brand recognition by publishing reviews on Google my business.
Also, it helps encourage local customers to buy from you.
These testimonials often feel like personal recommendations from people.
85% of customers believe online testimonials are just like personal recommendations, as suggested by BrightLocal's Local Consumer Review Survey.
Here is how to collect local reviews
Ask personally
Ask through post-purchase email
Use customer feedback surveys
This is how you can encourage customers to drop reviews:
Ask for a review personally after you make a sale
Email your customers after their purchase to write a review (but make sure you're not approaching dissatisfied customers)
Respond to existing reviews professionally, thanking them and addressing complaints in another section called not-so-favourable reviews
4. Create Content for Local News Stories or Events
Nothing else compares to authoring content that talks about local issues to grab local attention.
Some strategies include:
Crafting articles about local news stories, activities, or events
Making videos about local issues/causes or charities that your business supports
Promoting location-specific webpages on your website with local content if you serve different parts of a region
Imagine you're a local real estate business.
You can make different pages, one for each region, to talk about hyper-local content based on news events or happenings in the local real estate market.
This can help you rank for a specific reason and attract a regional target audience.
Contact us if you are looking for SEO Services in Mumbai.
5. Effective Local SEO strategy for mobile users
It's more convenient to search for anything on mobile rather than desktop.
A 2018 stone temple study claims that people have been turning towards mobile search massively in the past few years. The mobile visits to websites reached 63% (2017) from 57% (2016).
At the same time, there was a drop in desktop searches from 43% to 37%.
Another study from Acquisio (2017) determined that traffic from local searches can be even more lucrative, as 75% of all mobile searches with local intent produce local store offline visits within 24 hours.
According to these data, optimising your website for mobile is an immediate need if you want to be a champion in local SEO.
Here are some tips:
Make sure your website loads quickly (maximum of three seconds)
Use standard font sizes (16-20px) that are easy to read
Ensure intuitive UI/UX for a smooth user experience.
6. Hone in on Local Keywords for Local SEO Algorithm
Include local keywords when you want to target local customers. And you can determine what keywords are relevant to the intent of your article with the help of Google's keyword planner.
Use Google keyword planner to
Filter relevant keywords to your niche
Find keywords based on volume searches
Check keywords based on your locality
It can filter and provide popular keyword searches for a particular location.
With its help, you can create a list of locally relevant keywords. And not just the article these give us should be included in the meta description, copy, and URL.
Also, you can rank better if you mention popular landmarks or hotspots in your content.
For example, if you have a local diner downtown Seattle, you can include references to "dining by the Space Needle" on your site.
Contact us if you are looking for SEO Services in Delhi NCR.
7. Create a Dedicated Webpage for Each Location
Don't show a webpage filled with different locations for your product and services.
It might feel tempting to show all the locations on a page, but it can look like a big lump and confuse people. Instead, it would help if you dedicated separate pages for unique locations.
Also, the local SEO juice isn't as powerful if you put everything into one page because search engines might not see your brand as an authority in a particular area. This can again confuse the search engine and lower your ranking possibilities.
For example, "dental surgery" will turn into "New York dental surgery" or "Buffalo dental surgery"- based on location.
8. Improve local SEO Location-Specific "About Us" Page
Location-specific pages on your website are critical if your business is location specific. These pages must provide the following information-
Name, address, and phone number.
Store hours
Testimonials
Promotions
Parking space availability
Google Maps for each location page
If you have multiple locations, you must create unique content for each page.
However, creating an "About Us" page focusing on local and relevant information is enough if you have a business for just one location.
For example, if you have a gift shop, your "About Us" page should mention your shop's chain of services, such as if you supply gifts as home delivery, in town, or outside the city.
9. Local SEO methods with Online Business Directories
Many online business directories websites like MapQuest, Yelp, Foursquare, and YellowPages help build brand visibility.
Not only by putting your business name, address, and contact information into these directories help with brand awareness, but it'll also improve your local SEO.
Your company listing should have this basic information:
Business name
Address and contact information
A backlink to your website
A brief description of your business
This information must be consistent across all directories.
10. Focus on Link Signals (High-Quality Backlinks)
Moz's 2017 Local Search Ranking Factors research says that link signals are the most important factors for local pack and localized organic results. Link signals are nothing but backlinks to your site. It's vital to have links boost your local SEO, but their quality is equally important.
Here is how you can get high-quality backlinks:
Create quality content on your site with interesting facts and data so others want to link to your content
Try putting guest blog posts on reputable sites with a high DA
Engage with local social media influencers to get them to link back to you
Local SEO Checklist
Here is our ultimate Local SEO Checklist for your business:
Optimize your website for local keywords and phrases
Ensure that your website has accurate and consistent contact information (NAP)
Use structured data markup to provide search engines with more information about your business
Build citations on directories, social media platforms, and other websites
Encourage customers to leave reviews on popular platforms such as Google, Yelp, and Facebook
Create a Google My Business listing and keep it updated
Optimize your website for mobile devices
Use alt tags for images on your website
Use schema markup for local business information
Create a blog and regularly post content that is relevant to your local audience
Make sure your website is secure (HTTPS)
Optimize your website's loading speed
Create local content on your website
Use social media to connect with your local audience
Monitor your online reputation and respond to any negative reviews
Track your Local SEO efforts and adjust your strategy as needed
Create a local link-building strategy
Make sure your website is accessible to all users, including those with disabilities.
Conclusion
SEO often changes rapidly. You never know when there will be the next set of new features on SERPs for local searches, but you can always expect these.
That's why it's essential to stay on top of local SEO. Make sure you implement at least these ten actionable steps to take advantage of lucrative local searches and have a solid foundation for when new SEO features come into action.
And if you lack the bandwidth to make these adjustments, you can try a digital marketing agency like Brandloom, which offers top-notch local SEO services for all brands.
Frequently Asked Questions
What are local SEO tools?
Local SEO tools are the best to track your rank and analyze your performance. These tools help you understand how to increase your ranking and optimize content accordingly with the right keywords, specifically local keywords. The devices also help you understand how your competitors succeed.

The most popular local SEO tools are-

Growth bar: Growth bar (Chrome Extension) is a low-cost local SEO tool. It is a standalone web app but is also available as a Chrome extension. This tool tracks the position of the top keywords of a webpage, which you can use for your competitor analysis and local keyword research.

Semrush Listing Management Tool: This tool makes it easier to add and update your business data to the directories within and outside of the United States. You can use the tool to track or update your live listings and ensure they stay accurate and unified across platforms.

Yext: Yext's powerful Review Monitoring feature connects with third-party sites so you can check and respond to all business reviews from all locations from one dashboard. Yext also offers robust tools to make your business listings compatible with voice search optimization.
What are local optimization techniques in SEO?
Local SEO strategy helps you catch the target audience's attention living in or close to where you want to serve.

Several techniques are involved in local SEO, but some common ones are essential for all businesses. These tips will help you pop up in the search results when a person nearby searches for a company like yours.

Claim Your Business Listings: A listing for your business is formed over time, with duplicate listings accumulating. Claim all your listings under your brand name, remove duplicates, and keep the information up to date.

Add Location Pages to Your Website: Search engines that call your website always find close matches to provide the best result on the search engine result page. You will have a better chance of ranking if you mention business location on your web pages.

Attain Reviews: They are the major ranking factor for a local business as they make your listing stand out. It would be helpful if you could ask your satisfied customers to drop reviews on Google my business, sharing their positive experiences. It can also help with brand awareness.

How is local SEO different from SEO?

The core aim of both local and traditional SEO is to improve your ranking in online search results. Both help people find connections or purchase from your business easily. What makes them different is traditional SEO is all about improving your website's visibility without being location specific. This mostly works on a national or global level.

Local SEO is a must if your business is limited to a particular area. It allows you to capture local search territory and connect with searchers in your area. SEO and local SEO both use a lot of similar strategies. However, local SEO is a technical measure to communicate with searchers in your area.
What are the benefits of local SEO?
Local optimization will show higher visibility in search engines by focusing on relevant audiences already looking for your brand's services or products.

This is essential for an online business and especially offline ones, as the map pack shows local results first and then the organic SERPs later.

A local business owner needs to optimize the website according to local SEO. It will help you thrive online and build your business authority quickly.

These are a couple of benefits of local SEO:
– Higher positions for local queries
– Trust and authority
– Better visibility in your niche
– Increased relevant traffic
– Strong local community outreach
– Cheaper ads
– More effective marketing campaigns
– Exposure to local listings
What kind of business can use local SEO techniques?
Local SEO is a search engine optimization technique that helps brands become visible in local search results and search engines like Google.

Specifically, local SEO is for businesses that serve in a particular geographic location. It can be any product or service but catered to that region only.

It will help you get instant results in search engines whenever someone such as for a query in that location. Comparatively, you will have a better chance of ranking for your localities than competitors who have not done local SEO. Also, even if you don't want sir business in one location, locals can help you generate offline store visits.

If you search for any important keywords on Google related to your brand and see a map with three listings underneath (map pack), then local SEO can help boost your business immensely.
How to improve google's local business ranking?
There are several ways to improve a Google Local Business listing ranking, some of them include:
Claim and verify your listing: Make sure you claim and verify your Google Local Business listing. This will ensure that you have control over the information displayed on your listing and that it is accurate.

Optimize your listing: Make sure your listing is fully optimized with accurate and complete information, such as your business name, address, phone number, hours of operation, and website.

Use keywords: Use relevant keywords in your business name, categories, and description to help potential customers find your listing when searching for products or services in your area.

Get reviews: Encourage customers to leave reviews on your Google Local Business listing. Positive reviews can significantly impact your ranking and help establish your business as a reputable option for potential customers.

Add photos and videos: Add high-quality photos and videos to your listing to give potential customers a better sense of your products or services and to make your listing stand out from the competition.

Use Google My Business Insights: Use Google My Business Insights to track your listing's performance and to see how potential customers are interacting with your listing.

Optimize your website for local SEO: Optimize your website for local SEO by including your business name, address, and phone number and using relevant keywords in your content.

Get listed in other directories: Get your business in other directories such as Yelp, Yellow Pages, and Bing Places to increase your online presence and give potential customers more ways to find your business.

Monitor and Respond to reviews: Monitor and respond to reviews; this will help you understand what your customers think and also will help you to improve your service.
How local SEO works? How to improve local search results?
Local SEO is like a puzzle, where each piece represents a different aspect of your business's online presence, such as your website, reviews, and citations.

The goal is to put all the pieces together to make it easy for search engines and customers to find your business and understand what you have to offer.

Local SEO is a complex and ever-evolving process that requires a strategic approach to optimize your business's online presence for local search results.

At its core, Local SEO is about making sure that search engines understand your business's location, contact information, and what services or products you offer.

This is achieved by optimizing your website, building citations, and getting reviews.

First, ensure your website is optimized for local keywords and phrases and has accurate and consistent contact information.

This includes your business name, address, and phone number (NAP) and should be listed on every website.

You can also use structured data markup to provide search engines with more information about your business.

Citations are another important aspect of Local SEO. These are online mentions of your business's NAP and can be found on directories, social media platforms, and other websites.

Building citations helps to establish your business's legitimacy and improves your visibility in local search results.

Reviews also play a significant role in Local SEO. Positive reviews can help boost your visibility in search results and improve your reputation among customers. Encourage your customers to leave reviews on popular platforms such as Google, Yelp, and Facebook.

Local SEO is about creating a strong online presence for your business optimized for local search results.

This includes optimizing your website, building citations, and getting reviews, it's also important to keep in mind that Local SEO is an ongoing process and requires regular monitoring and updates to stay ahead of the competition.