What is that you have to offer to your customers?
Why should they buy from YOU and not the next seller?
How will your offering make their lives better?
These are the crucial factors that can make or break a brand. If business owners don't have clarity on these matters, they will fail to communicate correctly with their audiences. To ensure that this is not the case, brands need to draft a good value proposition for their offerings.
This blog will look at what a value proposition is, why brands should pay attention to it, and how to create a good one.
If you want to understand your value proposition and how you can position your brand in the market, our team at BrandLoom can help. We can help you identify your market niche and communicate your uniqueness to your target audiences so that your brand properly resonates with them.
What is a value proposition? Value proposition meaning
A Value Proposition in an advertisement or marketing material is the product's core benefit. It is described as "a sentence that tells the future customer why he should buy this product."
It must be clear, concise, and compelling for potential customers and business prospects. Businesses can use different marketing strategies to get their message to their target market through emotional connections, which create value, usefulness, and desirability.
A study shows that when a visitor comes to your website, you will have roughly 30 seconds to hook them in. If you cannot communicate how your product will add value to their lives in that time- they will lose interest.
Here is where a value proposition comes into play. It clarifies your product's tangible and intangible benefits to the brand and the customer. If your ad or copy can reflect that value proposition attractively- you have a good chance of converting your visitor into a customer.
Importance of a value proposition in marketing – why do brands need it?
What can a good value proposition do for your brand?
Create a great first impression
Get an edge over the competition
Increase conversions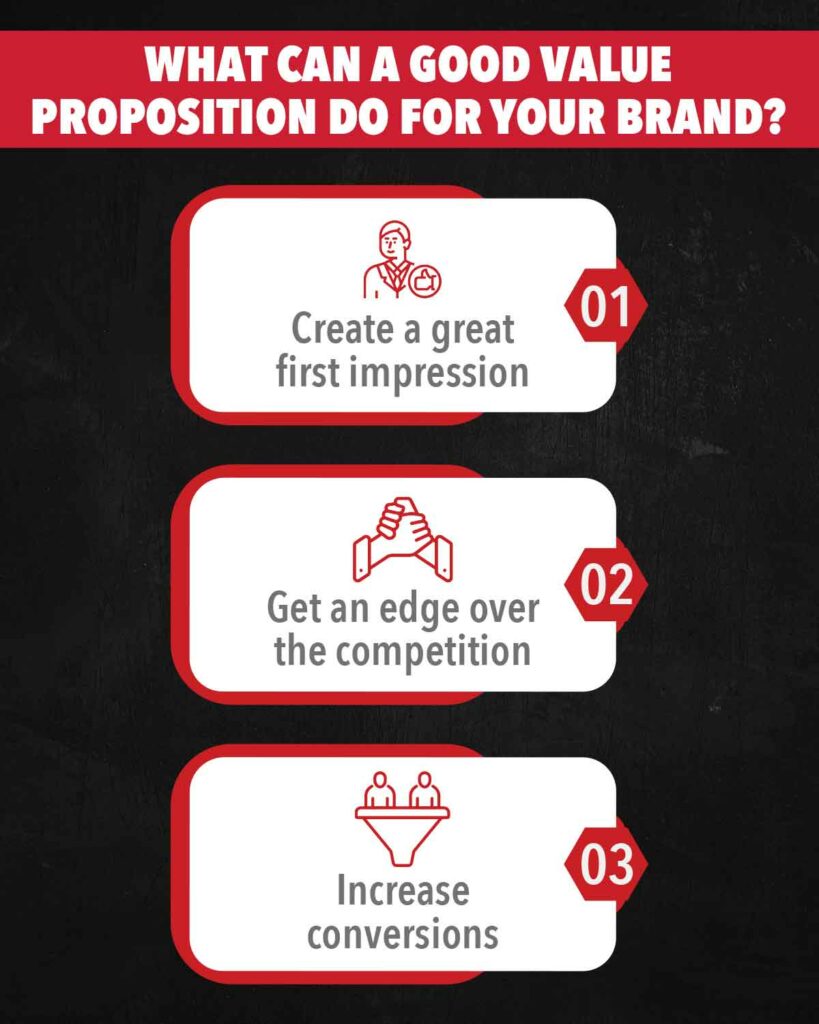 Your value proposition is an integral part of your business strategy. To develop a highly compelling value proposition, you need to research your target market and focus on their needs. Here are some ways a good value proposition can benefit you.
1 Creating a great first impression
The power of a value proposition is that it can influence a prospect's first impression of a company or product without the prospect ever knowing who you are or interacting with your brand.
2 Beating the competition
If you can craft a strong value proposition, you will have a decisive edge over your competitors. Your proposition will influence all your marketing communication and help you resonate strongly with your audiences.
3 More conversions
A good value proposition will help you convert your visitors to customers. Create a good impression on your audience, and convince them that they are gaining a lot by investing in your brand- and you will see them lining up for a taste.
A value proposition should be consistent with your other marketing materials, demonstrating to customers that they are in the right place. It helps ensure that potential customers contact you for the right reasons and not because of a disconnect between your marketing materials and their needs.
So if you want to craft a strong value proposition- what should you keep in mind?
Characteristics of a good value proposition
What should a good value proposition specify about your product?
Relevance
Specific benefits
Uniqueness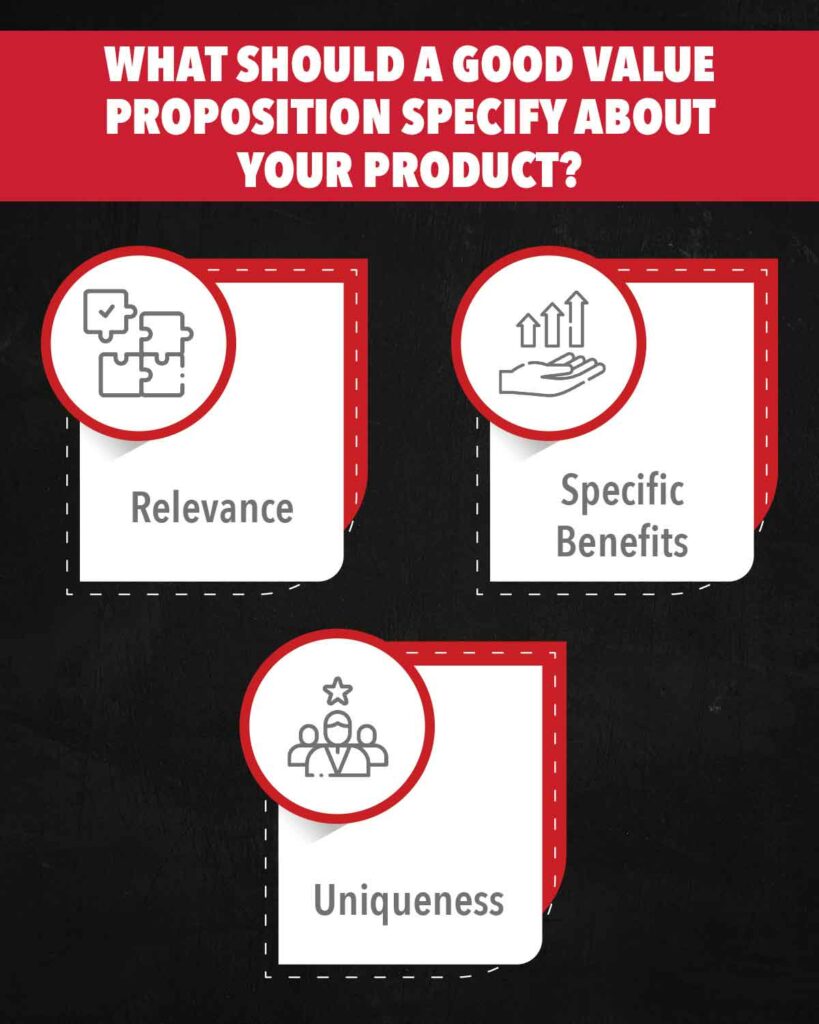 A good value proposition should communicate three main things about your brand and/or product. We will illustrate this with an example: let's say the product you make is lipstick. Now, let's see how you can define your value proposition.
1 Relevance
Why and how is the product relevant to the customer? You should communicate how it solves a customer's problem to answer this.
If your customer is looking for something that will help them effortlessly transition from a corporate to a casual look- and be long-lasting, your lipstick is exactly what she needs.
2 Specific benefits
Precisely what is it that the customer gets when they invest in you? Be specific.
Here are the specific benefits of your product:
Great colour
It goes well with both corporate and casual wear
It stays for over 16 hours
3 Uniqueness
Why should the customer buy YOUR lipstick instead of your competitor's product?
In the case of your lipstick- it is the versatility. It suits both corporate and casual looks.
Apart from that, your value proposition should be easily understandable and not take more than 5 seconds to read.
Now, you need to craft a proposition that encapsulates all this.
Sample Value Proposition
Switch on for the weekend without touching up. Coral Lips carries you over from the boardroom to ladies' night out and stays with you as long as you need it.
Difference between a value proposition, positioning statement, and tagline
Think again if you believe that your value proposition is your brand's positioning statement or tagline.
A tagline is a catchphrase that reflects your brand's purpose beyond the product. The primary goal here is to hook your customers in. A tagline is short and often just hints at abstract concepts.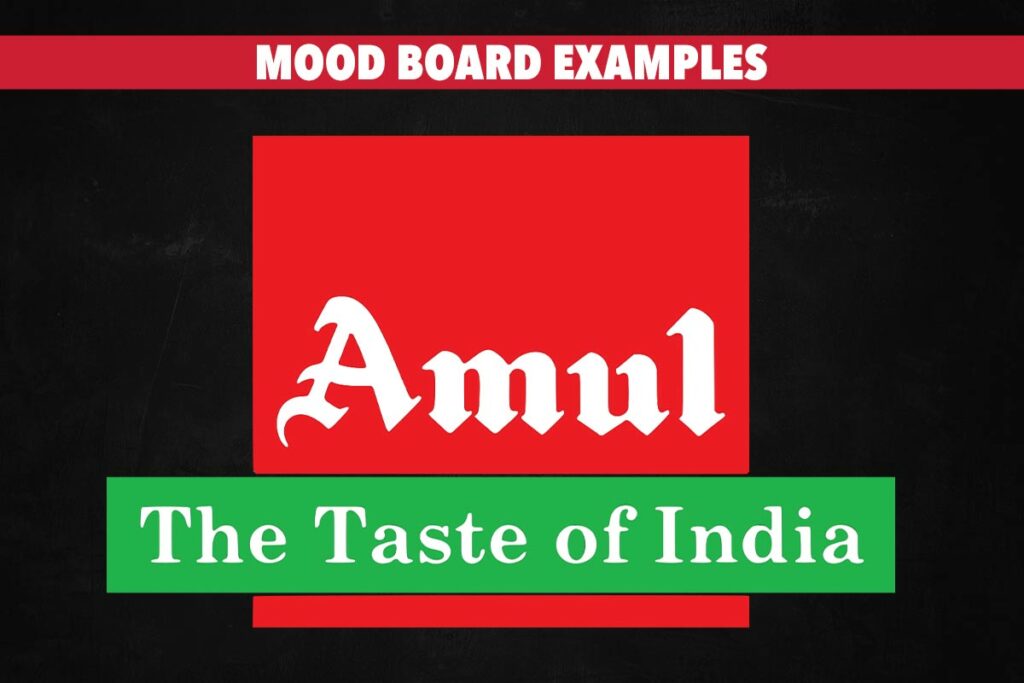 E.g.: Amul- Taste of India
A positioning statement defines what your brand does and for whom- and why you are different than others. It is detailed, often wordy, and its purpose is to define your niche.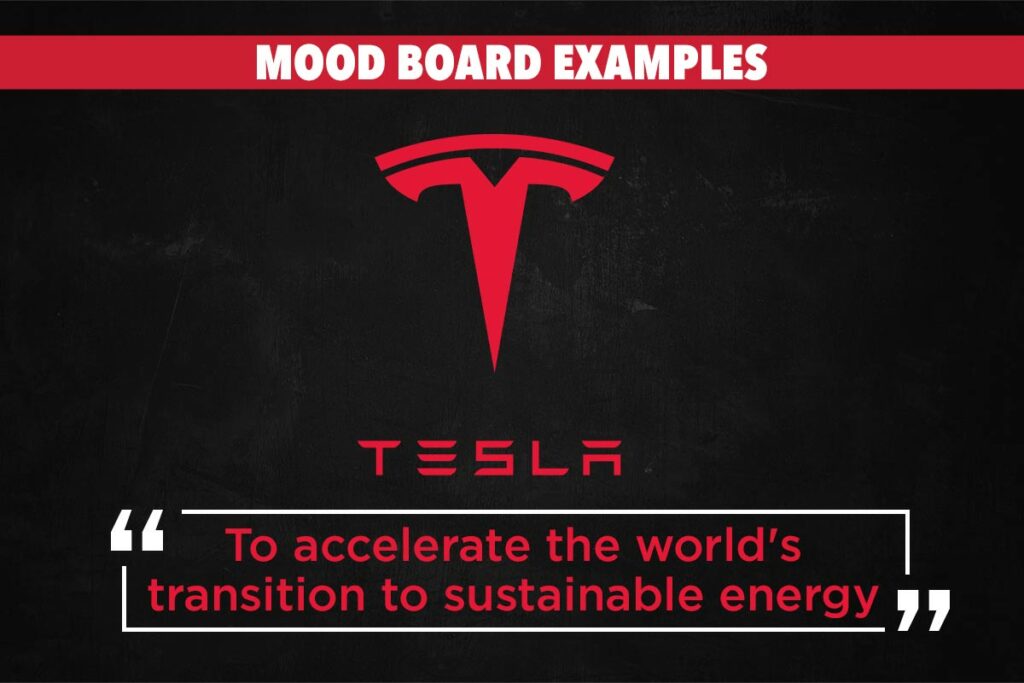 E.g., Tesla- to accelerate the world's transition to sustainable energy.
The tagline and the positioning statement reflect your value proposition- but they are not the same. Please read our blog to know more about taglines.
Two facets of a value proposition: The value proposition canvas
The Value Proposition Canvas focuses on identifying customer problems and developing goods or services to resolve them. Source
Simply informing customers that you have a fantastic product will not make them want it.
You may make a fantastic product with all the bells and whistles, but if it doesn't fundamentally assist consumers or you don't properly communicate the value, people won't buy it.
In the factory we make products, in the drugstore we sell hope.

Charles Revson – Founder of Revlon
Is the WHY missing? The value proposition canvas is built around understanding why customers buy.
Consumer persona:
Value Map
Demographic Profile
Pain Points
Expectations
Pain relief
Specific benefits
Happiness quotient
Elements of Value Proposition Canvas
The value proposition canvas is a tool to help you understand what value your product offers and to whom. It focuses on two aspects: the value map and the consumer persona.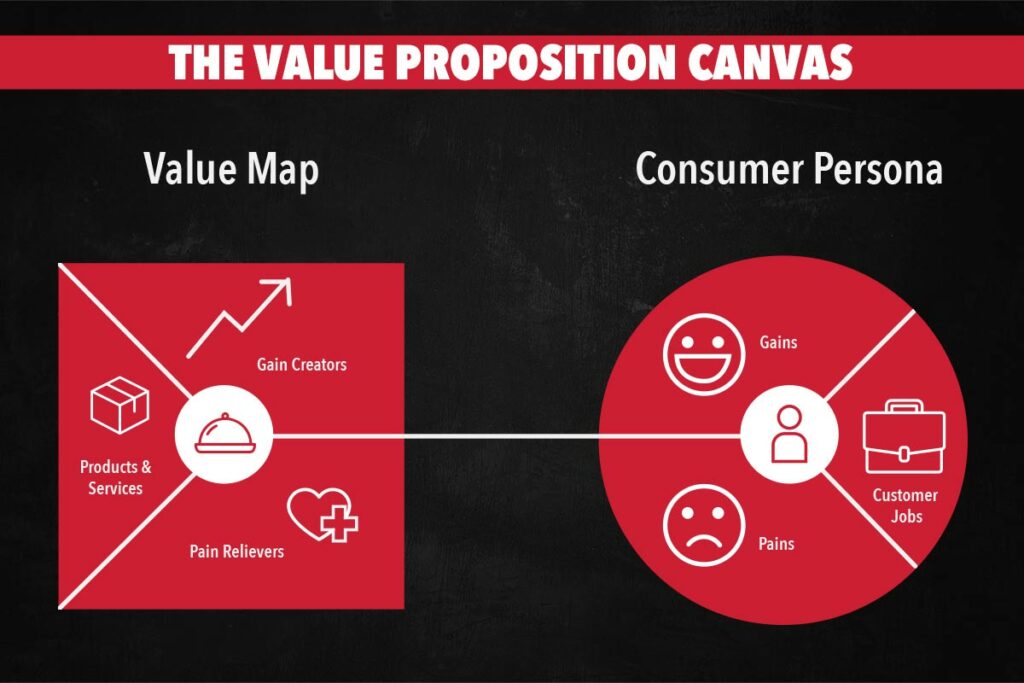 Consumer persona:
The most important thing to understand here is who are the people who will use your product. What are their pains? What are they looking for in a solution? Inevitably, this will include other demographic details. By answering these questions, you will prioritize and set your plan in motion.
Value map:
A value map contains all the elements of your product's value proposition. It helps you visualize those elements using words, different colours, and icons. Mainly, it should look at:
How your product addresses your customer's pain points.
How it makes the customer happy?
Specific benefits of the product.
Here is what you Achieve with Value Proposition Canvas
Define your consumer profiles precisely.
Identify your customer's key Jobs-to-Be-Done, the difficulties they experience when attempting to complete their Jobs-to-Be-Done, and the benefits they see from completing their Jobs-to-Be-Done.
Consider the value you generate.
Define the most significant aspects of your product, including how you alleviate suffering and provide advantages for your consumers.
Obtain Product-Market Fit
Achieve Product-Market fit by adjusting your Value Proposition depending on the insights received from customer evidence.
What does a value proposition consist of?
A value proposition should be made of:
Headline: which will be the value your product adds to the user's life
Description: a brief description of what your product does and who it is for;
Specific benefits: Often in bullet form
Visual: A visual element to describe what your product does.
Now that we know what goes into creating a value proposition- let us brainstorm on creating one.
Questions to ask yourself when you craft your value proposition
Before you start creating your value proposition, you should clarify what you are offering to your customers. So, ask yourself:
1 What specific product are you selling?
Can you say clearly in one sentence what you are selling? What is it meant to do? You should describe your product and its purpose in a couple of sentences. Remember- your audience is a layman- so you should be able to have a simple and easily-understandable answer for him.
2 What benefit does it offer?
Be specific- and talk about BENEFITS rather than FEATURES.
If your product is an AI writing tool, for example, it may have the ability to churn out 100 words in 2 seconds- but that is its feature. The benefit will help the user generate content faster and be more productive.
3 Who is your customer?
What are the demographic characteristics of your target audience? What are their pain points? Is there any solution that they are looking for? Have a clear profile for who your intended customer is. Remember- not everyone will be your customer- so be specific about who you will be marketing to. If needed, create multiple audience personas.
4 What makes you unique?
What is your USP? How are your brand and your product different than your competition? Why will someone buy from YOU and not your rival? What unique service will they get when they invest in your brand? Be objective and answer these questions without any bias. Put yourself in your customers' shoes before you frame an answer.
How to create a good value proposition?
Here is how to create a Good Value proposition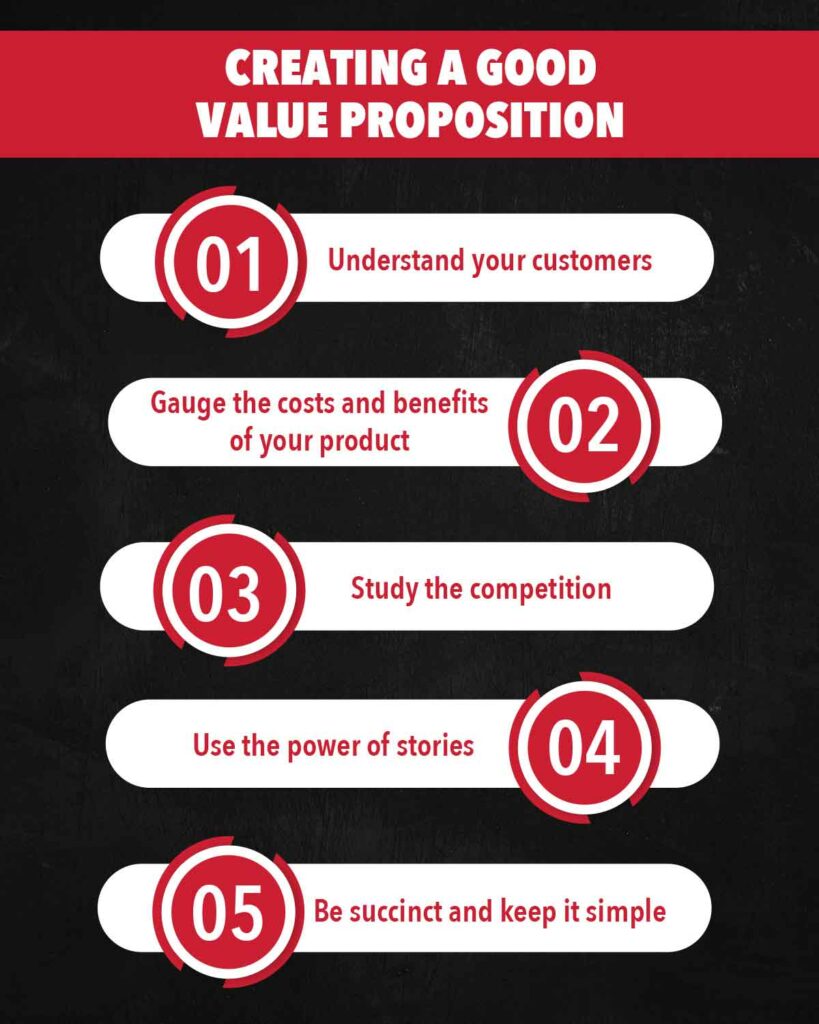 1 Understand your target customers
Know who they are, what they like and dislike, and what they are looking for. Understand their pain points. Remember, if you cannot think like them- you cannot offer them what they need, and you won't meet their expectations.
2 Gauge the costs and benefits
You should understand the key benefits of using your services or buying your products so you can explain them to other people. Also, pay attention to the price- because it should be affordable to your target audience. You cannot create a $500 shoe for college students working part-time jobs to support themselves.
If your product can seem appealing to people in a way that they feel they will gain MORE than the PRICE THEY ARE PAYING for it- you have hit the jackpot.
3 Use the power of stories (and testimonials if you can)
Your customers are people with emotions, not data-driven robots! No matter what kind of product or service you offer, humanize it by telling a story about real people who use it.
For example, your product is an app that allows people to take their meetings on their phones. You can describe Real Mary, who, thanks to your product, can now work from home and be with her kids after school.
4 Study your competitors
Get to know your competitors and what they offer, but don't copy them. Focus on their strengths and weaknesses so that you can set yourself apart from them. Find out how the competition is successful and what value proposition they use to win over customers' trust.
5 Be succinct
The text you write has to be clear, concise, and easy to understand. Keep your USPs in one or two sentences that will take your visitors no longer than a couple of seconds to read.
You can do justice to your value proposition only when you have a clear idea of your brand's positioning. If you feel overwhelmed by this, entrust it to good branding agencies like BrandLoom. We can find the correct positioning for your brand, craft a great value proposition for you and help you create suitable ads and landing pages that will hook in your customers.
How to test your value proposition?
You've got a great product, service, or idea. It's going to change the world. But you need a little more validation before you go for it full steam ahead. How can you test your value proposition?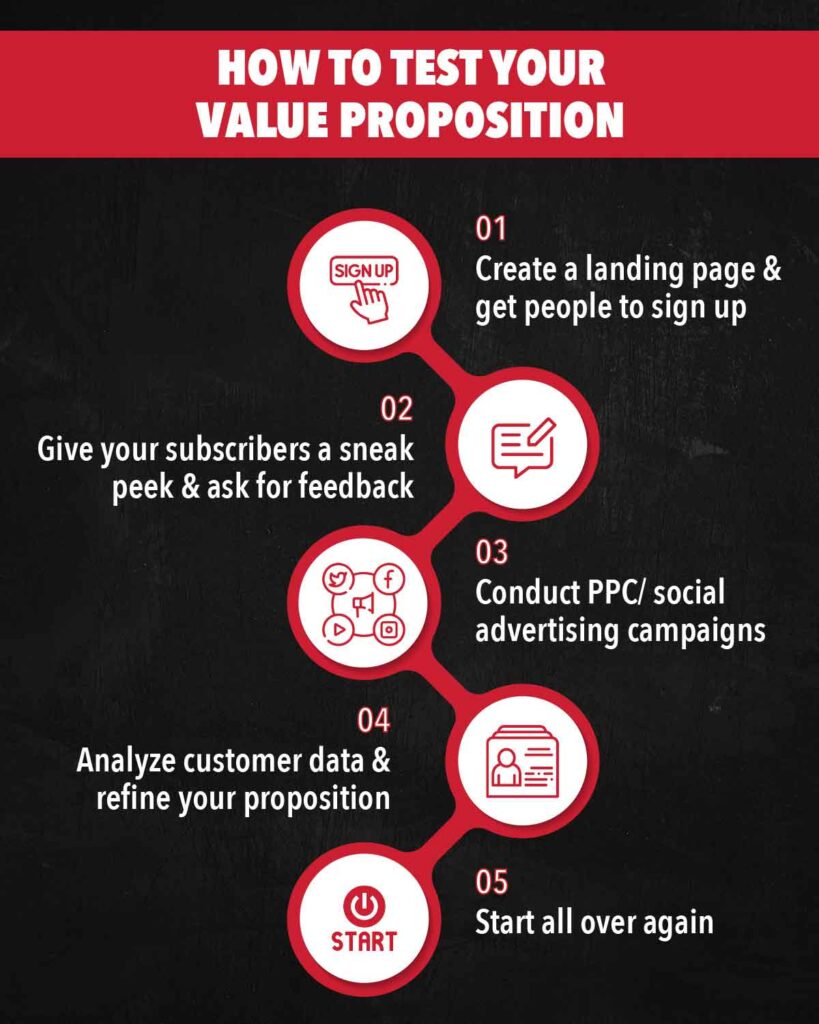 1 Create a landing page & get people to sign up
Build a landing page with an email signup form to subscribe to be notified when/if you launch.
2 Give your subscribers a sneak peek & ask for feedback
Give your signup subscribers a sneak peek of what you're building, or even ask them for their opinions on which features they would prefer to see most in the finished product.
3 Conduct PPC/ social advertising campaigns
Use Google Ads and Facebook ads to drive traffic to your landing page and start gathering data about how many people click, sign up, and when/if they convert (turn into paying customers).
4 Analyze customer data & refine your proposition
Analyze the data you receive, then use it to either update or refine your value proposition. You can even ask your subscribers how they feel about each new iteration in an email autoresponder series!
5 Start all over again with step 1
Remember, there's no such thing as a perfect value proposition! Just keep iterating and readjusting until you start to see a pattern of how people interact with your brand/product/idea. Then get back to work on making that interaction even better.
If you want to run good online ad campaigns to test out your value proposition- BrandLoom can help.
Good value proposition examples
Here are a few brands that have done an excellent job with their value propositions.
A clear message that shows who is the target audience
Relevant, neat visuals
Good iteration of benefits in the description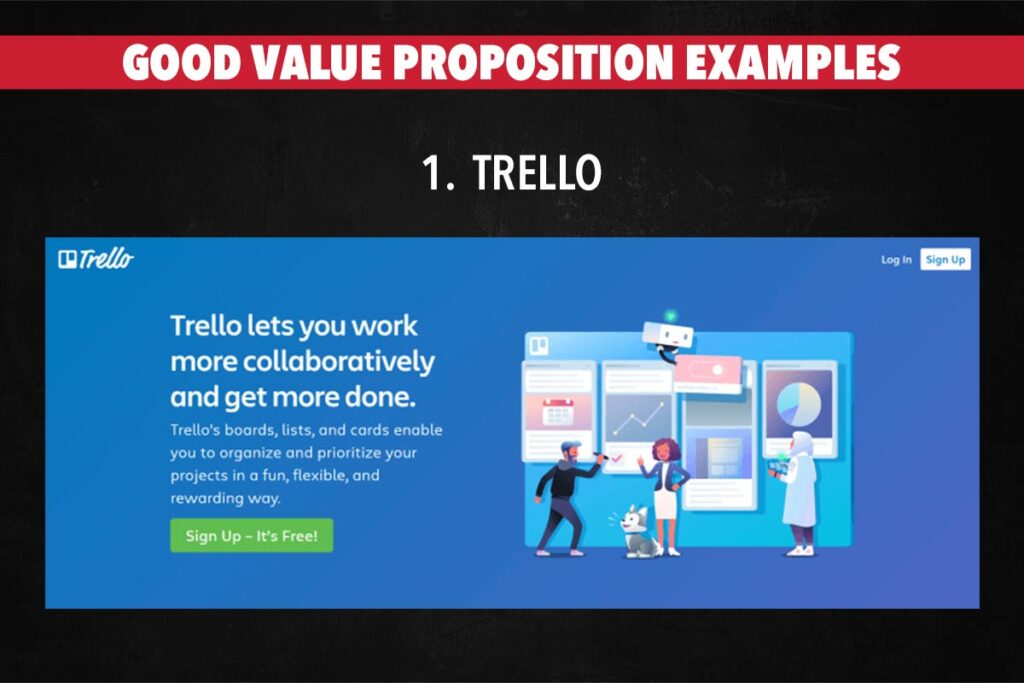 Clearly says how the product makes the user's life better (organize notes effortlessly)
The visuals do an excellent job of showing that the service can work on multiple devices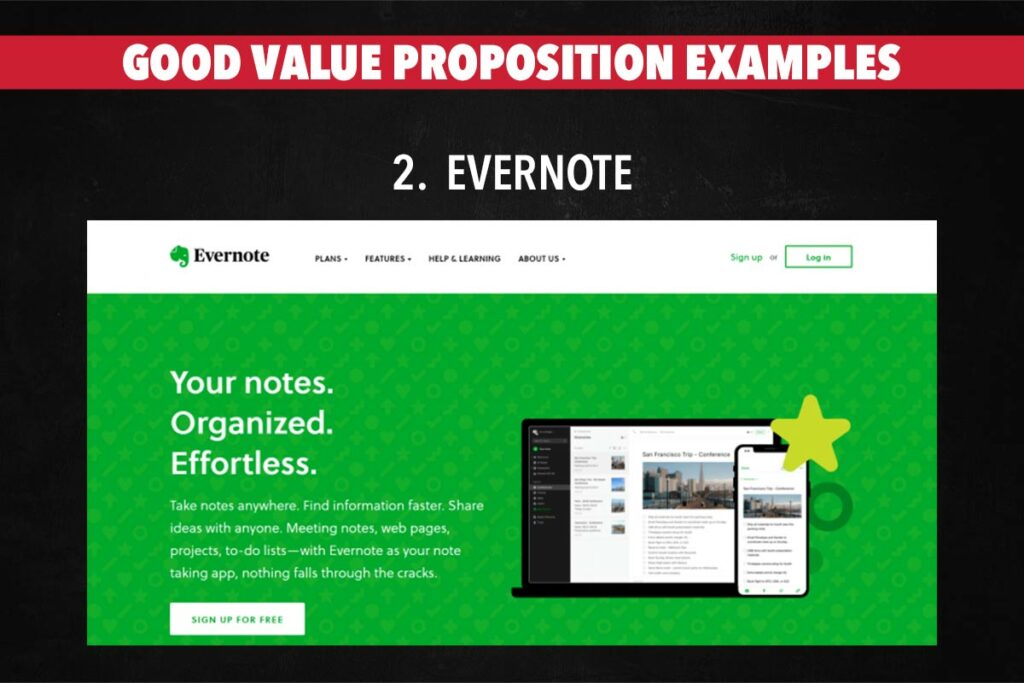 The brevity resonates with what its product does
Iterates benefits in a direct & clear manner
Effective messaging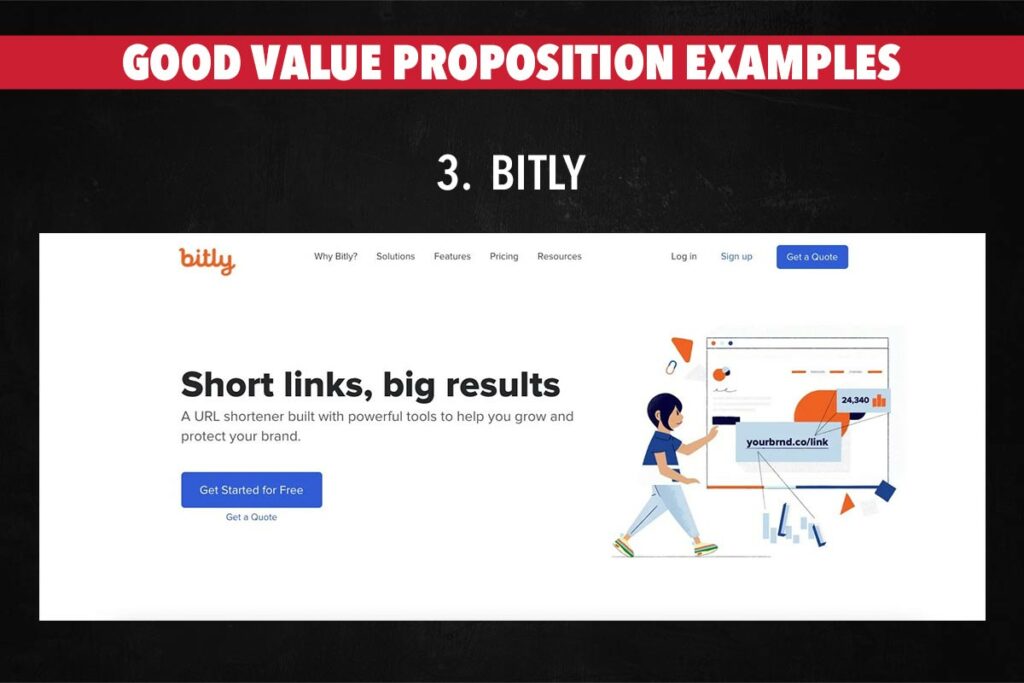 Conclusion
A good value proposition is at the very heart of the brand building. If you can convince your audiences that what you have for them is unique and life-changing- they will invest in your brand and become loyal followers.
If you want to build a profitable and sustainable brand, talk to the branding experts in the field. Choose BrandLoom.
FAQs
What is a value proposition?


A brand value proposition is an instrument that tells your customers the benefits of doing business with you. It offers do's and don'ts to convince your customers to choose you over others. A value proposition has to be unique, emotional, and believable.

Usually, value propositions are product-specific. Value propositions are often used in marketing or product development to describe the core benefit of a new product. They have been described as "a sentence that tells the future customer why he should buy this product."

The power of a value proposition is that it can influence a prospect's first impression of a company or product without the prospect ever knowing who you are or interacting with your brand.

How do you write a value proposition?


There are no universal rules or best practices for writing a brand value proposition. It depends on several factors: the target group of customers, competition in the market, etc. But some considerations can help you to get started.

You should understand the key benefits of using your services or buying your products so you can explain them to other people. This will help you create a successful value proposition.
Remember to keep your USPs short and sweet; you don't have much time at the first stage.
Don't obsess over the features of your services or products. Customers aren't interested in what your product can do; they want to know how it will improve their lives.

Support it with good visuals, testimonials, or stories for a more significant impact.


How long is a value proposition?


The length of a value proposition depends on the product and the industry it's for. However, we think a value proposition should be concise – not containing more than 2-3 lines.

A value proposition must consist of an "opening sentence" and a "closing sentence ."In between, there is room for text. As long as you get an idea about what your product does, you can write additional text to make things more detailed.